Categories and Tags are two main options to organize and categorize your posts in BlogIn.
Categories
Categories are pre-defined taxonomy used to sort and group related posts into different sections. Each post can be filed under multiple categories and can have both categories and tags. Top-level categories can also have subcategories.
When creating a new post, users can choose which categories the post belongs to.

A list of all categories is always shown in the sidebar on the left and is available to all users. Clicking the category name will bring category page which shows all posts associated with that category.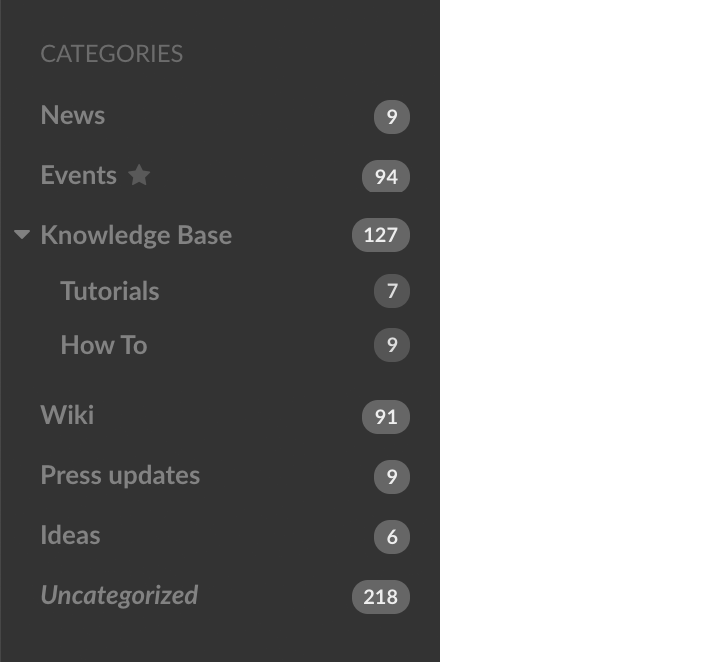 Users can also follow categories, to automatically get notified whenever there is a new post published in a category.
Blog administrators can manage (add, edit, delete, reorder) categories and subcategories by clicking the Categories label in the sidebar on the left.

Tags
Tags provide a useful way to group related posts together and quickly tell readers what a post is about. Tags also make it easier for people to find content. Tags are similar to categories, but unlike categories, users can use any tag(s) they want to describe their posts in more detail. Think of them as keywords used for topics discussed in a particular post.

All tags of a post are shown below the post on the single post view and clicking on the tag will show the list of all posts that are tagged with that tag.