In BlogIn, you can create content on your internal blog as either a "post" or a "page". There are few key differences between posts and pages.
Pages
Pages are static which means that the information displayed on a page doesn't change, or doesn't change often. A great example of a page would be the "About" or "Contact Us" section. Pages are not listed by date, do not use categories and users can not place comments on a page. Pages are always displayed on the top of the left sidebar menu of your BlogIn account.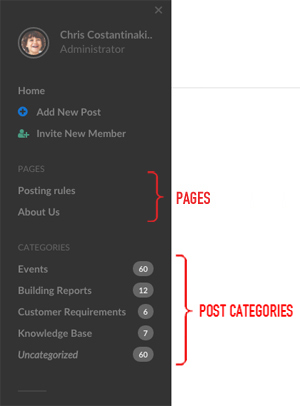 Posts
Posts are searchable content entries listed in reverse chronological order on your blog's homepage. Last published post is always shown at the top of the homepage. Posts are organized into categories. Posts encourage conversation. They have a built-in commenting feature that allows users to place comments and replies (although you can choose to turn off comments for a particular post). Older posts can be found in the archive. Individual posts can be shared among members and with people who do not have BlogIn account using a public link feature, which is only available to the post author and Administrators.
How many can I have?
There is no limit on the number of posts or pages you can have.