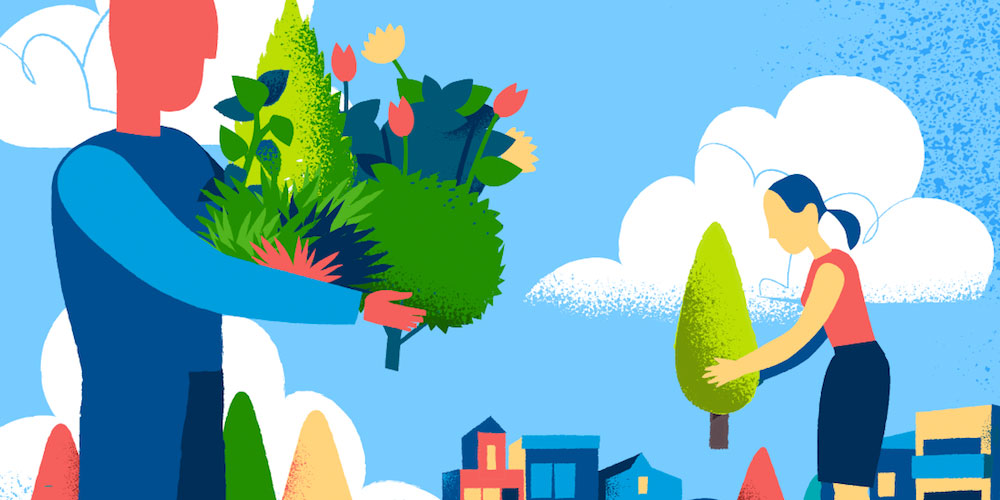 The connection between employee engagement and productivity has been long-established. The math is simple: high employee engagement equals greater output and less employee turnover.
Still, reaching a satisfactory level of employee engagement remains a delicate and fragile goal for many organizations. It can never be achieved solely through HR-centric activities, but instead requires a comprehensive approach reflected in all aspects of a company's inner workings, from financial reward to organizational culture, with everything in between. In short, everything matters.
For the purposes of this article, we have focused on five key areas of internal organization that significantly contribute to the degree of involvement, inclusion, and motivation of individual employees: communication, knowledge sharing, feedback, recognition, and performance tracking.
We have also selected excellent corresponding tools for each of these areas, although we encourage everyone to search the abundance of alternatives to each suggested tool before making any choices.
1) Communication: Slack
In the present-day working landscape where multiple offices and remote work have become the norm, the question of efficient and timely team-level communication becomes crucial. Options such as instant messaging, file sharing, or video conferencing are no longer a matter of choice, but of necessity.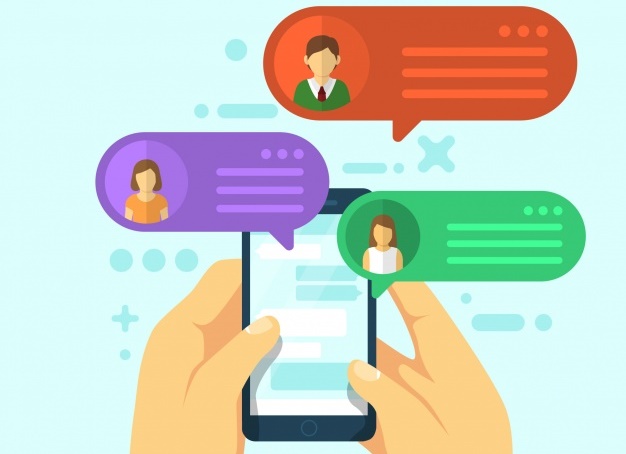 While it is not the only quality solution on the market, we have chosen Slack due to its popularity, an abundance of enterprise-centered features and integrations with most other popular tools. It is a sleek, no-nonsense instant communication platform that enables real-time collaboration on virtual teams.

In terms of employee engagement, an additional aspect of instant chat channels is their "watercooler" quality. It allows physically removed team members to not only collaborate but also engage on a personal level, thus creating a connection that can extend to their overall sentiment towards the organization as a whole.
2) Knowledge sharing: BlogIn
The multiplication of communication tools necessary for modern work has created the challenge of informational clutter. With so many channels of communication and such a massive amount of information we all receive on a daily working basis, it is becoming increasingly difficult to filter through the noise.
Having a dedicated internal company blog helps centralize, organize and effectively share internal news and knowledge and ensure that everyone stays on the same page.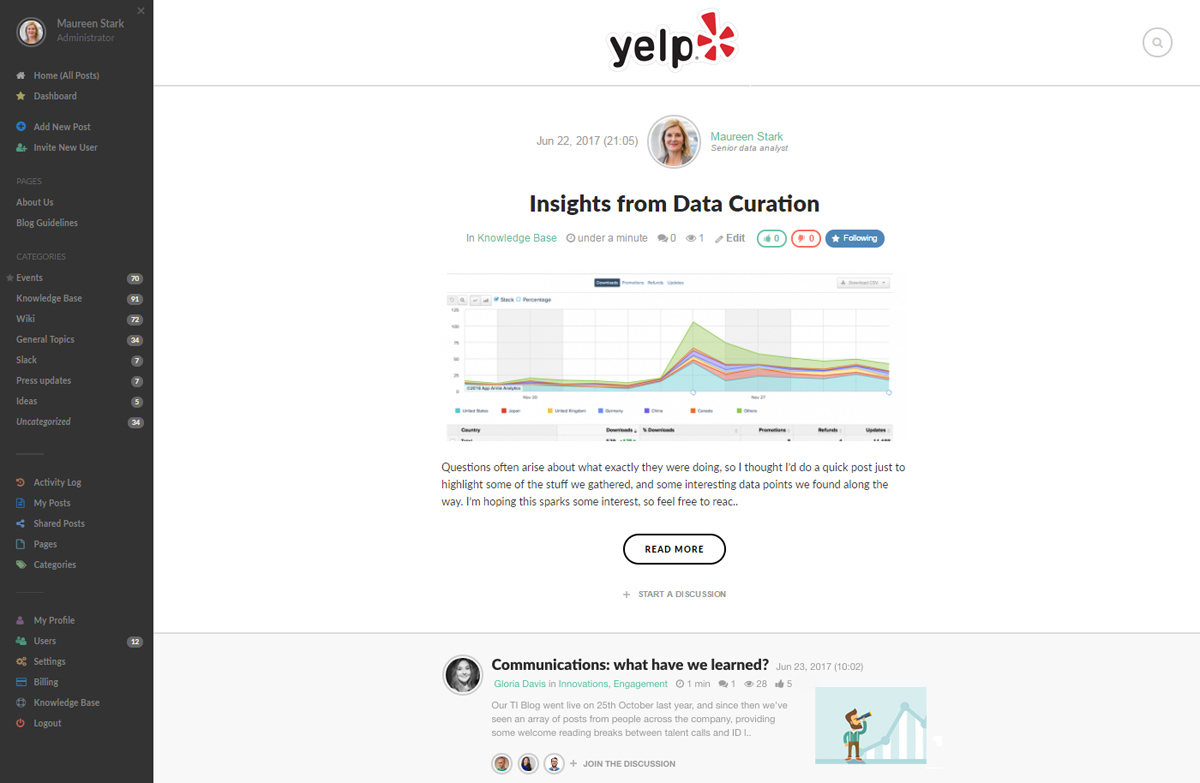 The beauty of BlogIn lies in its simplicity: it allows organizations to address a variety of communicational challenges, from news distribution to knowledge sharing and all the way to project collaboration.
It is a simple platform for organizations to both communicate their messages and allow the entire team to engage in discussion and idea exchange in an organized manner.
The mechanics are simple: all relevant units of information are published as blog posts organized by categories and tags (e.g., news, events, knowledge base, milestones, specific projects, etc.).
Transparent two-way communication takes place through comments, while administrators can control both the audience (who sees what) and their roles (who can post, edit, or comment). The audience helps separate company-level communication from team-specific subjects, while roles enable both efficient content curation and an active discussion.
It can also be a great platform for providing visibility and validation, by, for instance, introducing new team members, recognizing an individual or team achievements, or marking important dates (birthdays, work anniversaries, etc.). It is flexible enough for organizations to make whatever they want from it.
3) Feedback: Culture Amp
In order to create and sustain a culture that nurtures engaged employees, companies must be willing to allow to be shaped by the needs and opinions of their workforce. To employees, an internal organization is not an abstract concept - it is an everyday reality in which they operate.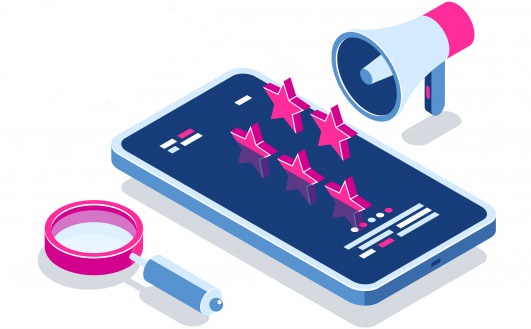 It all starts with providing a platform for all individual voices to be heard. Culture Amp combines simple, time-effective workforce surveys with analytical data in order to help companies improve their internal processes. By analyzing survey data through a variety of criteria and comparing it with industry leaders in relevant categories, the platform enables organizations to not only easily aggregate and assess employee feedback, but also identify any weak spots and areas for improvement. It even gives you tips and ideas on concrete activities!
Of course, the platform is not a magical cure-all, but it can be very helpful in assessing the overall levels of satisfaction in different areas and carving a path towards a healthier organizational culture with more involved and engaged employees.
4) Recognition: Kudos
Lack of recognition is one of the most commonly cited reasons for work departures. Employees - especially those organizations would want to keep - need to be valued and appreciated for their contributions. As the number of employees grows, so does the challenge of distinguishing individual efforts and rewarding them with due recognition.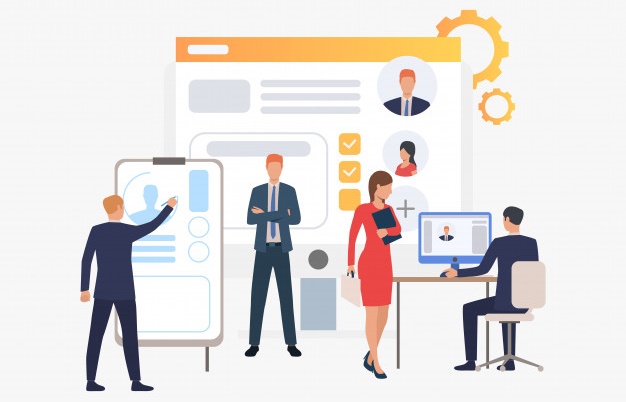 That's where Kudos comes in. The platform is designed to encourage team leaders and team members to appreciate the efforts of their colleagues. In its essence, it is an enterprise-centric social network focused on affirmation. With features such as badges, custom awards, and certificates, it serves to celebrate the people that make up an organization.
The platform allows companies to further encourage employee involvement by rewarding points for certain achievements, such as reaching an individual or team goals. These points can then be converted into rewards, such as gift cards, educations, days off, donations to social causes, or anything else an organization deems fit. It is a nice way to show that extra bit of appreciation we all need from time to time.
5) Performance tracking: Weekdone
As we have already established, the relevance of employee engagement to businesses lies in the way it translates to productivity. It is important for organizations to be able to measure individual and team progress of its employees, not just for the bottom line, but also to understand how they can help their employees further their professional development.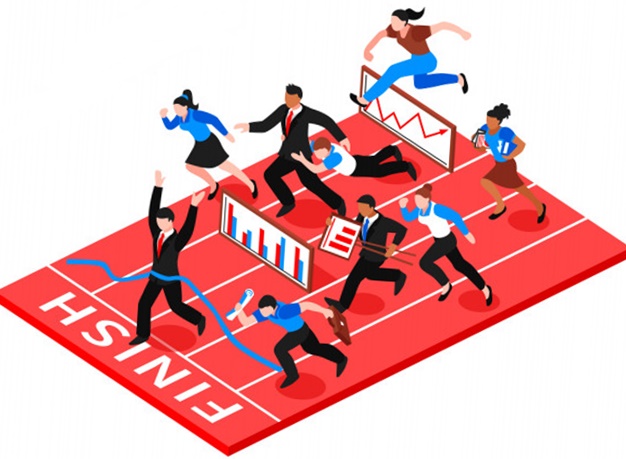 Weekdone provides a comprehensive platform for performance tracking. Based on the OKR (objectives and key results) methodology, it enables teams and individuals to define goals and divide them into measurable outcomes and then follows it up with a plethora of stats and metrics to monitor and evaluate the progress.
The platform comes with all the necessary bells and whistles to ensure clarity and transparency in the working process and simplify and automate tracking and reporting. It is thorough and comprehensive, jam-packed with features to approach employee productivity from every conceivable angle. This quality may be its weakness to some, as the abundance of information can seem overwhelming, but once you get familiar with the settings and filter out the most relevant information for your organization, it may prove an invaluable helping hand.
Conclusion
Fostering an engaged workforce is no small feat. It requires a continued and comprehensive interest in the professional well-being of your employees. These tools will help you focus your efforts and organize your activities for maximum effect.