We are living and creating in a new age, the age where it's no longer necessary to sit in the same room with someone (employee or a client) to be able to work together. The fact that we can work and collaborate remotely enables us to have employees in distributed groups, working from their homes for clients who are scattered all over the world.
To be able to work in such a way we need an adequate set of tools that will support this way of life. Having the right collection of tools can bring a lot of benefits to your team and boost their effectiveness when communicating, working together, and completing tasks. We call such tools "power productivity kits." A kit like this can be a lifesaver. It provides you with broad support and helps you organize the working process better, especially during busy days when the deadline is approaching. Such tools can literally change the way you communicate, manage projects, track time, and organize yourself.
Below is our list of the power productivity kit essentials that we recommend to help you keep your team productive and up to date:
1. Asana for project management
A suitable project management tool can make a difference between completed projects and the ones that in eternal progress. Among the many different solutions in the market, our choice was Asana. The reason is simple - we liked it best. It took us a couple of weeks to get used to the system, but once we got on to it, we couldn't imagine organizing our task lists and projects without Asana anymore. Not to mention that we love the recent redesign. It makes the system even more user-friendly, clean and decluttered.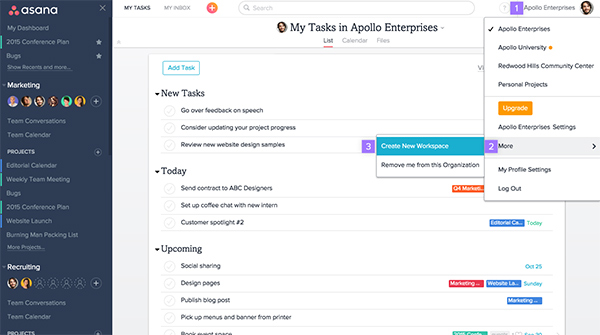 2. Google Apps for Work for collaboration
Everybody uses various Google apps, but have you tried Google applications designed especially for your business and teams? We did, and we like it very much. Tools that we are using are online storage, shared calendars, video meetings, collaborative documents, and spreadsheets. And our favorite from the group is Google Documents and Google Spreadsheets. You can bring your information everywhere because they are stored online, you can share them with the others and collaborate in real-time on a text document or spreadsheet. How great is that?
3. Dropbox for file sharing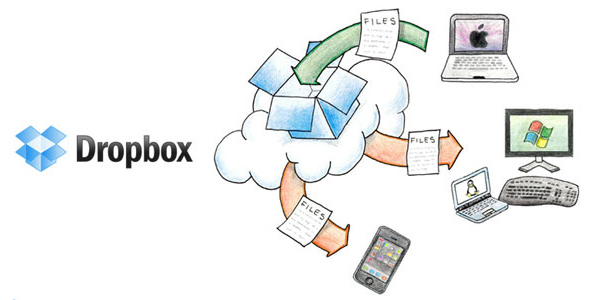 You can never get enough online storage, so besides Google Drive, we are using Dropbox, as well. You may ask why? Well, frankly because we need a secure and protected place where we can share different files. Also, we like the way that Dropbox is handling file sharing - we have shared folders for different stuff where we keep files that we all need. Since we are using Dropbox, our team members don't have any problems accessing relevant documents, presentations, videos, photos or contracts because they are available for everyone.
4. BlogIn for sharing internal news and knowledge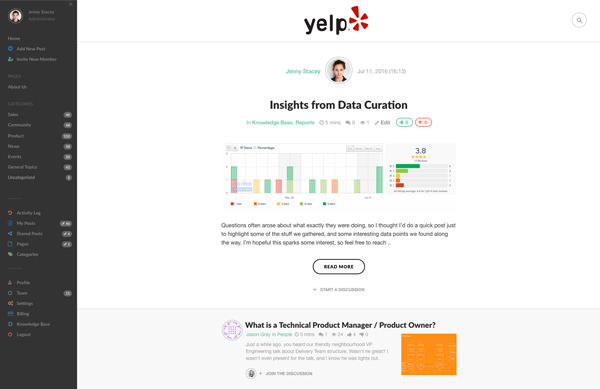 Obviously, BlogIn is our choice. Besides the fact that this is our brainchild, we also believe that an internal blog is quite useful to have. With an internal blog, you can quickly share information, knowledge, news, and ideas and get feedback from your teammates. An internal blog can help you improve communication between different departments in your company, it can be useful for keeping your company culture alive, and it enables the creation of a valuable knowledge-sharing platform. We are using it for almost everything - from sharing day to day announcements and updates to project statuses to organizing team building activities and keeping score for our office team foosball tournament.

BlogIn is a beautifully simple internal blog and knowledge-sharing platform for teams of all sizes.
Start 14-day free trial
or
get more information
5. RescueTime for time tracking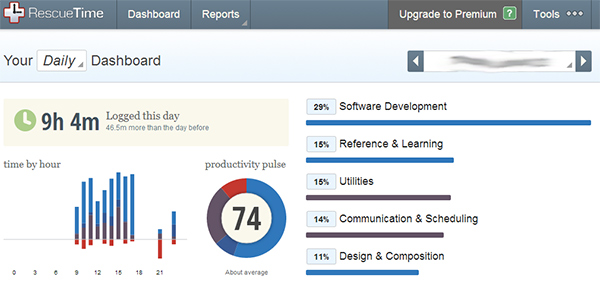 We are not tracking time because we charge per hour; we do that to learn how we spend our time. And we have learned a lot from analyzing RescueTime reports about what we do during the day. I bet you think that you are spending less than 15 minutes a day on Twitter, but once you see time tracking report you may find out that you are spending way more than that. It was quite shocking for me when I learned that my 15 minutes is actually an hour and a half. So, now that I know that I am trying to avoid Twitter and all the other time eaters. You will be surprised when you see how much time you actually have when you find out what is distracting you the most and when you exclude all of these distractions from your work.
6. Egg Timer for time alarm

You will get the best results when you limit yourself with time chunks. One of the great tools that you can use for this purpose is Egg Timer. It is nothing but a timer that counts down the time and sounds the alarm once the time is up. You can use it to practice Pomodoro or to have better morning routines. The end effect is excellent: your productivity will skyrocket!
7. Timecamp for time tracking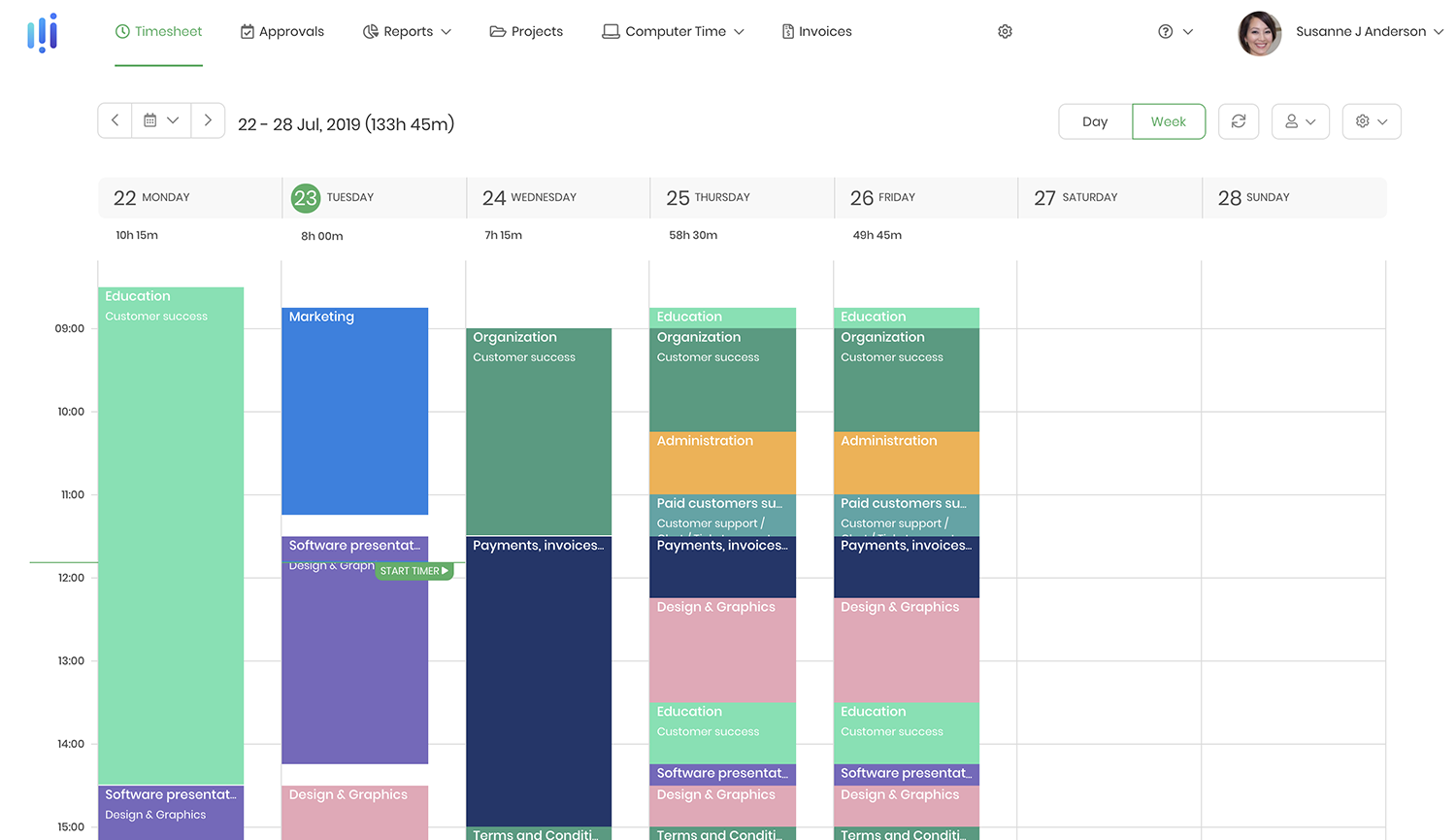 It's common that we need to keep an eye on time that goes by. But being in a hurry all the time, we often forgot to take a look at the clock and write down our records. That's why time tracking software comes with a helping hand! Specifically Timecamp, an easy to use yet powerful time tracker that helps you keep time on your own and the team's performance. It tracks time automatically in the background, but also offers filling timesheets manually (with just a few clicks you can fill them with computer activities tracked during working hours). What is more, it offers a wide range of reports to help both you and your employees analyze how productive you are. Add attendance management, billing rates and unique project tree structure and you'll get a true time management suite.
And this is it. These are all of the tools that we need to stay productive. You may wonder why we haven't included one of the hot team chat tools? Well, simply because we are not fans of such tools. We prefer less distracting communication, and this is why we use BlogIn for all our discussions.
If you still haven't found what you are looking for, check out this comprehensive list of productivity tools to get some ideas.
Now, we would like to hear from you - what kind of tools are you using? What is in your power productivity kit? How does your team like that set of tools? We are looking forward to your answers, so don't be shy!

Related: The best productivity apps for Mac