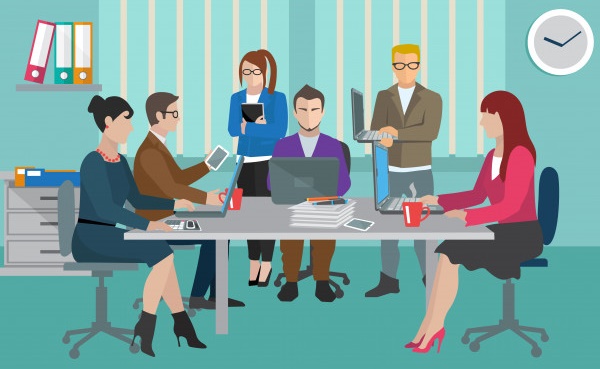 "Real collaboration is when the idea can no longer be traced to one person. It is legitimately ours."
- Simon Sinek
If your company is nursing a culture that urges employees to rely on each other, developing fluid cross-departmental communication is crucial. Implementing a single software for all employees could possibly solve most of your communication problems, but the key thing is to get people to use these tools on a day-to-day basis.
Another benefit of cross-departmental communication is the fact that this is the only way for your employees to understand how the work is being done in other departments. Giving them a common platform to share their knowledge and expertise is a great method to potentiate future collaborations and professional development of your workers.
All of this is possible with a simplified internal communication system which includes several key tools:
Business chat software like Slack or Skype for real-time day-to-day communication;

Cloud storage service such as Dropbox, Box, or Google Drive for storing shared files and documents;

An internal blog to share internal news and knowledge and untangle the email clutter - and this is where we step in!
How does this actually work?
Internal blogs are great for getting employee feedback - even between departments. Although their main service is to keep employees informed on company-related news, events, and knowledge, they are also pretty practical when it comes to dealing with common documentation.
For instance, we ourselves use our own internal communication tool to contemplate ideas and make changes to our blog posts and public statements. In other words, tools such as BlogIn come in handy whenever you need to start a conversation with an employee from another department, especially when the physical presence of your colleague is not really needed. Our production and marketing team work together frequently, and there is no easier way to spare some time and write a comment below an original draft, include other participants in the conversation, and give your own review of someone's work. All that with a simple goal in mind: to deliver a quality product - together.
So, let's take one of our recent announcements as an example.

Step 1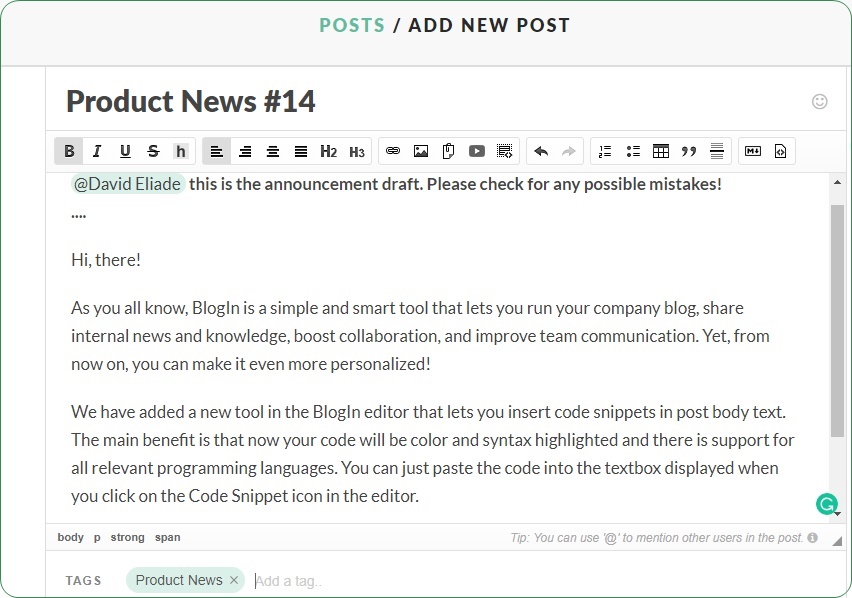 This is an example of how a simple announcement could be shared and checked between departments so that no technical mistakes end up in the text. Before publishing the announcement, I checked with David form the tech department if everything is fine. All it took was to tag him in a post.
Step 2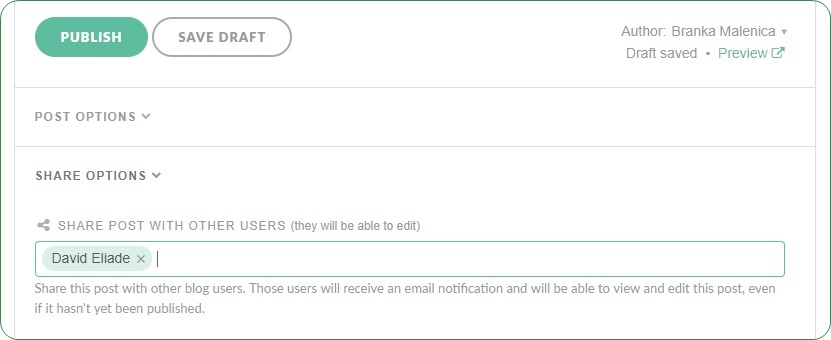 The next thing was to share the post with him so I could be sure he would get the notification on his desktop. By sharing the post with him, I allowed him to make edits as well. I excluded everybody else from the post since this was just a two-person job.
Step 3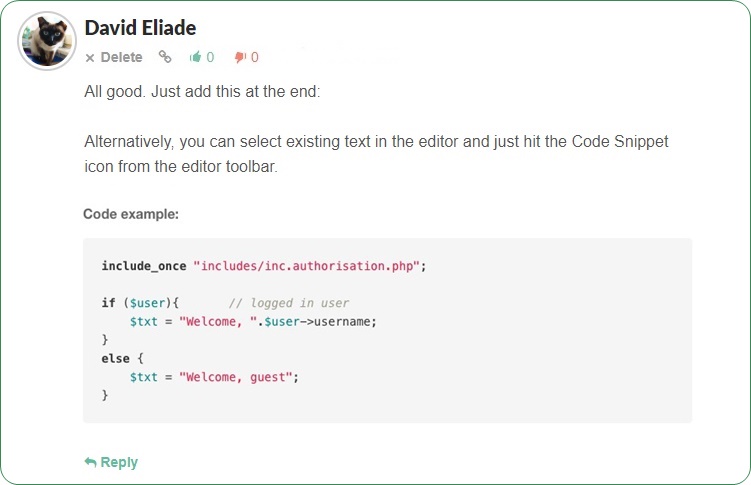 After David's approval in the comments, I was sure the announcement was ready for distribution.
Conclusion
Although this is just a simple example, similar could be done with more complex documents within a company with a strong hierarchy system. Remember, a lot can be accomplished if everyone is on the same page!
This is how we roll. Pretty simple, right?

BlogIn is a beautifully simple internal blog and knowledge-sharing platform for teams of all sizes.
Start 14-day free trial