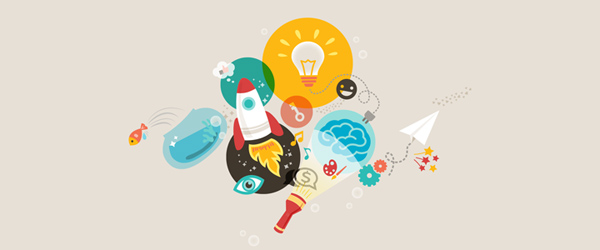 When you decide that you wish to improve internal communication in your company and get yourself an internal blogging platform the next step is to learn how to use it effectively.
Team communication can be tricky, and if you don't do it right, you can create some serious damage.
Another thing that you need to know before you start with internal blogging is that the internal blogging is not regular blogging. There are some similarities, but it's an independent world. For example, you don't have to blog every Wednesday to have some traffic or to write only about your niche. You can be a bit more relaxed and direct because you know your audience in person. On the other hand, it doesn't mean that there are no rules at all.
To help you increase the success of your company blog we have prepared 10 rules for successful internal blogging that you can follow to make your life easier. Let's get started!
1. Be yourself and be honest
The first rule is quite simple - just be yourself. People in your company already know who you are and if they are not close to you, this is a chance for them to meet you. There is no need to pretend that you're someone else, so relax and show them who you really are. If you like to share cat videos - share cat videos, if you want to submit company reports every Friday, submit it. Simply, do what's natural to you in your corporate environment.
And be honest. Dishonesty is the worse thing that you can do when blogging, so make sure that your real attitude and your points of view are reflected from the things you're saying (actually, writing).
2. Post on a regular basis
Each company has its own pace, and you should follow it. For example, in a place where I used to work, we had bi-weekly digest emails. We could all read what other teams were working on and what they are up to next with some small announcements, like who's birthday is coming up.
If you decide that you want to have such a publication, make sure that you're publishing it regularly. We were all feeling a bit down if it's Friday and the digest email was not waiting in the inbox.
People like consistency and they will be happy to hear the news from time to time. Such posts will also give you an opportunity, to sum up, everything that's been going on and see what's next for you and your team.
3. Share all important news to the team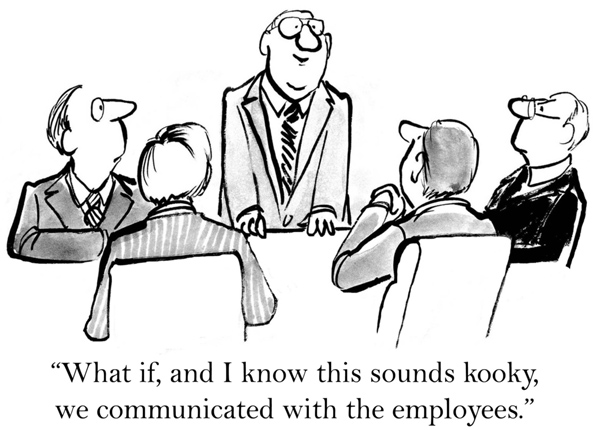 Keep your team up to date by telling them what is happening. Share all the news you can - starting from landing a new client to "we're out of coffee" things. As we already said, people like to know what is happening around them, so make sure that they are well informed.
By keeping the team in the loop, you will make them feel more involved with the company life.
Of course, there is some news that should not be told immediately, these are usually the bad ones but release them as well, as soon as you can. If things are not that good, the team should know about it and be prepared for whatever comes next.
4. Write short and consistent posts
When writing try to make it clear what you were trying to say. The best way to do that is by creating short and coherent posts. Use up to 500 words and try to share the message or tell the story that you wanted. There are exceptions, but the best practice with internal blogging is to keep it short and sweet.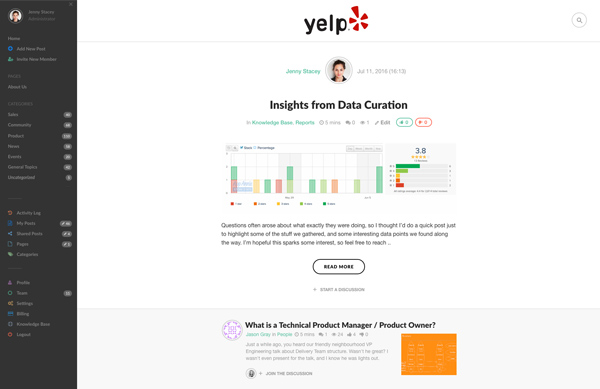 Long announcements can be quite annoying. As soon as they see them people have some degree of resistance when they should read it. So, if you have something rather extensive to share, it's better to call for a meeting than to blog about it.
5. Use formatting
Formatting is always a good practice. Use bold styling to emphasize what's important, use lists numbered and unnumbered, even add some images and memes to make your words more alive. Your posts will be more appealing to your readers.
On the other hand, there are also some formatting that you can avoid. Capital letters are an online synonym for yelling, so don't use them, it's rude. Italic formatting is a bit hard to read, so use it when you really have to.
And final advice regarding formatting - pay attention to your spelling and grammar mistakes.
6. Invite people to a discussion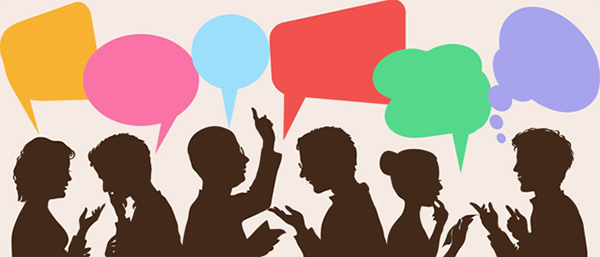 There are a few ways to motivate your team to continue the conversation:
Welcome them to share their opinion,

Express a controversial attitude and start a discussion yourself,

Ask a particular person to share/tell her point of view.
These are just some of the triggers that you can use. You're the one who knows your team best. Make sure to push the right buttons when you want to hear them out and motivate them to join the discussion.
7. Encourage others to post, as well
An internal blog is not your own playground, so be a pal and let other kids play as well. If they are a bit shy, you can try to ask someone from each team to share a weekly post about their highlights and challenges in the past five days. You can also invite everyone to share their "How to" knowledge and help create your internal knowledge base.
Regardless of the way you will be using it to motivate your team to participate, it's important for them to know that they are welcome to be a part of it. After all, the internal blog is about the team and for the team.
8. Use the internal blog as a knowledge base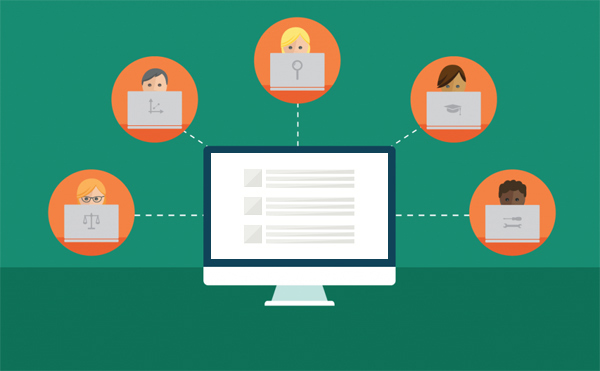 We have already mentioned a few times here that an internal blog is a perfect place for creating and keeping your internal knowledge base. Main reasons are:
It's available for everyone,

Content can be organized and categorized

Everyone can submit their addition to the general company knowledge,

Content can be searched quickly.
9. Use the internal blog as team activity organizer
Team events are usually a one-way street - you get an email with the schedule, and your choice is minimized to Y or N. The team has no vote in such cases, and such events are usually quite dull and uninteresting. If you want to spice things up, let the team say something.
When organizing your next office party, or team building weekend, make sure to publish it in your internal blog and consult the team. Believe me, they will have what to say, and it will help you create an unforgettable event.
10. Have some fun
What's the point of general communication tool if you can't share a joke or post a funny video there?
Of course that an internal blog can be used for such things. It's not a strict corporate channel under the supervision of the chairman board, it's a cool, modern tool for relaxed offices where you're welcome to share all kinds of things. A joke now and then will be refreshing for everyone, don't you agree?