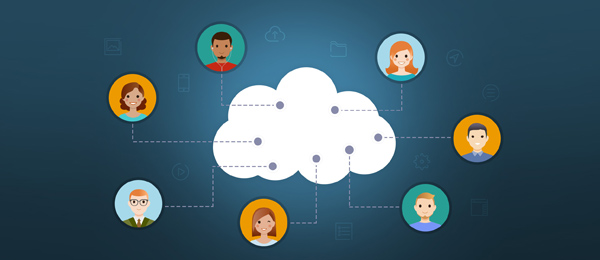 Long gone are the days when the whole team sits in one meeting room analyzing a problem for hours. Emails are going to history for time-sensitive discussions that require a quick response. A traditional way of face-to-face collaboration is getting replaced by technologically advanced solutions to meet the needs of the modern business landscape.
Online collaboration tools increase productivity in today's fast-paced business environment and enable communication for teams working remotely. We prepared a list of some cool online tools to help you stay organized and in the loop with your tasks and other team members. Find the one that suits your needs and keep it busy and productive!
Communication-focused Tools:
BlogIn
BlogIn is an internal blog platform for organizations looking for a better way to share news & knowledge internally and boost company culture. Developed for teams of any size, BlogIn offers tools to run an internal blog with unlimited pages, posts, and uploads.
The multifunctionality of this application enables users to share the news just about anything, from project work to informal chat. Created to simplify internal communication and inspire team collaboration, BlogIn encourages commenting, feedback, and replies.
Forever stored knowledge, never erased posts, and own company wiki reduces the learning curve and the time needed for internal news sharing processes.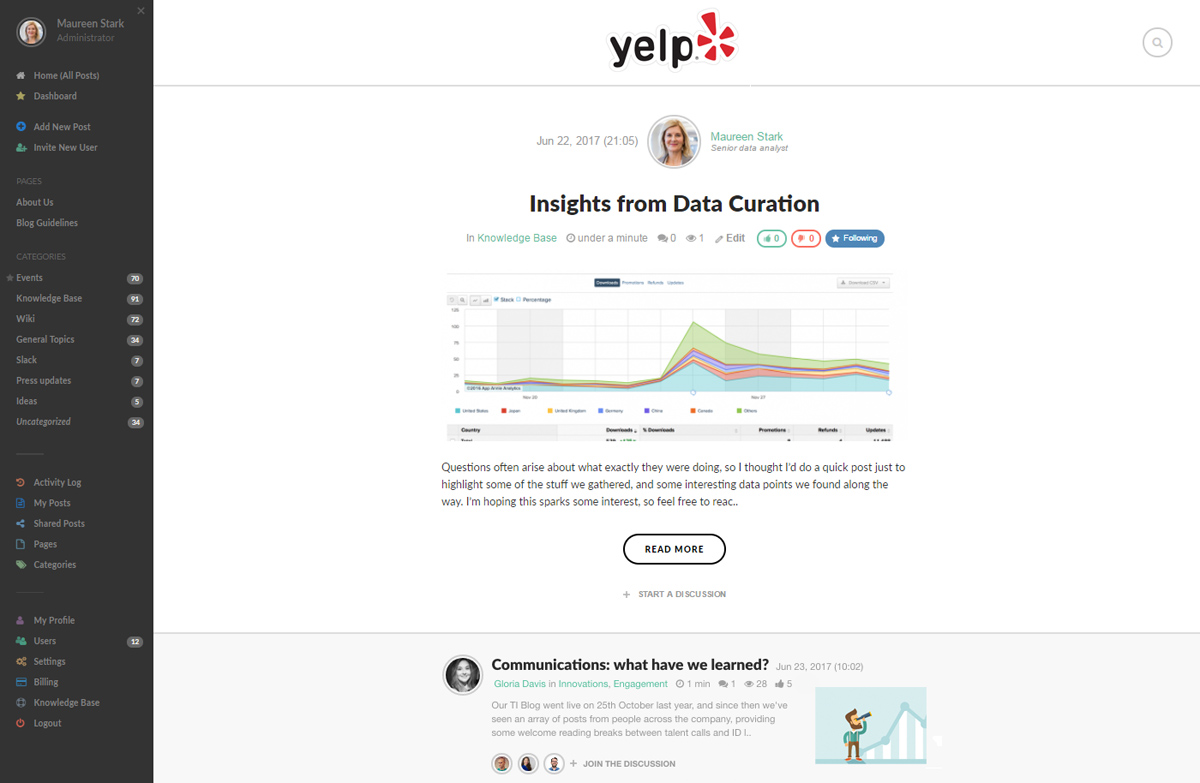 Key features:
Collaborative writing
File sharing
Group posting
Analytics
Search and editing
Unlimited members, pages, and posts
Company wiki
Integrations with Slack, Google, and Zapier
High security and privacy
Great customer support
Key benefits:
With the infinite number of members, posts, comments, pages, and files, BlogIn developed a service that meets various types of needs of teams of any size, allowing the members to chat just about anything without any limitations.

The collaborative, yet non-limiting nature of BlogIn along with features that encourage comments, feedback, and interactive communication makes this software a perfect online tool for boosting company culture and increasing happiness at work.

Integrations with Slack and other tools via Zapier and automatic information transfer between apps make the whole communication among team members synced, organized, and productive.
Cons:
Free 14-day trial, but no free options.
No live chat.
Brosix
Brosix is an instant messenger platform created mainly for business communication. Equipped with strong encryption and security features not offered by public communications platforms, the platform requires authorization and proper permission to access which only valid employees can provide. Unlike other publicly available chat applications, Brosix offers an additional pack of extra features for more convenient communication between team members. Although quite different from a standard chat app, the interface is intuitive and easy to use created with simplicity in mind. Pricing plans are quite affordable, and they also offer discounts. It's free for personal use.
Key features:
Top-level encryption
Multiple languages
Multi-platform capability
Premium tech-support
Private and group chat
Voice and video chat
Screen sharing
Whiteboard
Co-browsing
Unlimited size file transfer
Key benefits:
A user-friendly interface reduces complexity level, enables fast performance, and allows team members to communicate in a seamless fashion.

Essential features such as whiteboards, video chat, screen share, file transfer, private and group chat, and others enable consistent information flow between peers.

The highly secure network provides all the necessary privacy to its users.
Cons:
The Bat!
The Bat! is a highly secure desktop email client suitable for both private and professional use. The platform is rich in time-saving features that allow its users a seamless experience with productivity in mind. The Bat! works without another email provider and protects users' information through end-to-end encryption streams. Designed as a virtual account manager, The Bat! allows its users to manage multiple email accounts in one place with unlimited message storage.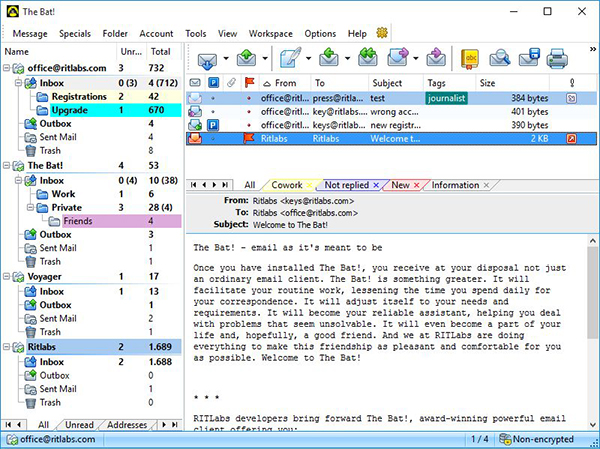 Key features:
Powerful filtering system
Own address book
Customized email templates
Backup and restore
Internal HTML viewer
Selective download
Key benefits:
In addition to the highly secure and privacy-conscious email system, independence from other cloud-based email providers makes The Bat! a highly reliable application to its users.

Powerful filters, folder views, templates, spam filtering, message tags, versatile search engine, and other excellent features offer its users easy email management and simplified life organization.
Cons:
A lot of menu options make The Bat! a bit confusing at first.
Troop Messenger
Troop Messenger has been specially designed to connect teams across organizations. It helps you to share ideas among the teams with the features of one-on-one messaging, group conversations, voice-video calls, audio messaging, and Burnout. This simple application crafted with seamless navigational feature flows extends excellent and uninterrupted workflows to its users. Connect across the platforms of desktop, browser, and mobile to share files, manage projects, achieve work deadlines. An exquisite advanced filter group feature allows the user to filter out search results based on images, videos, files, contacts, location, and URLs.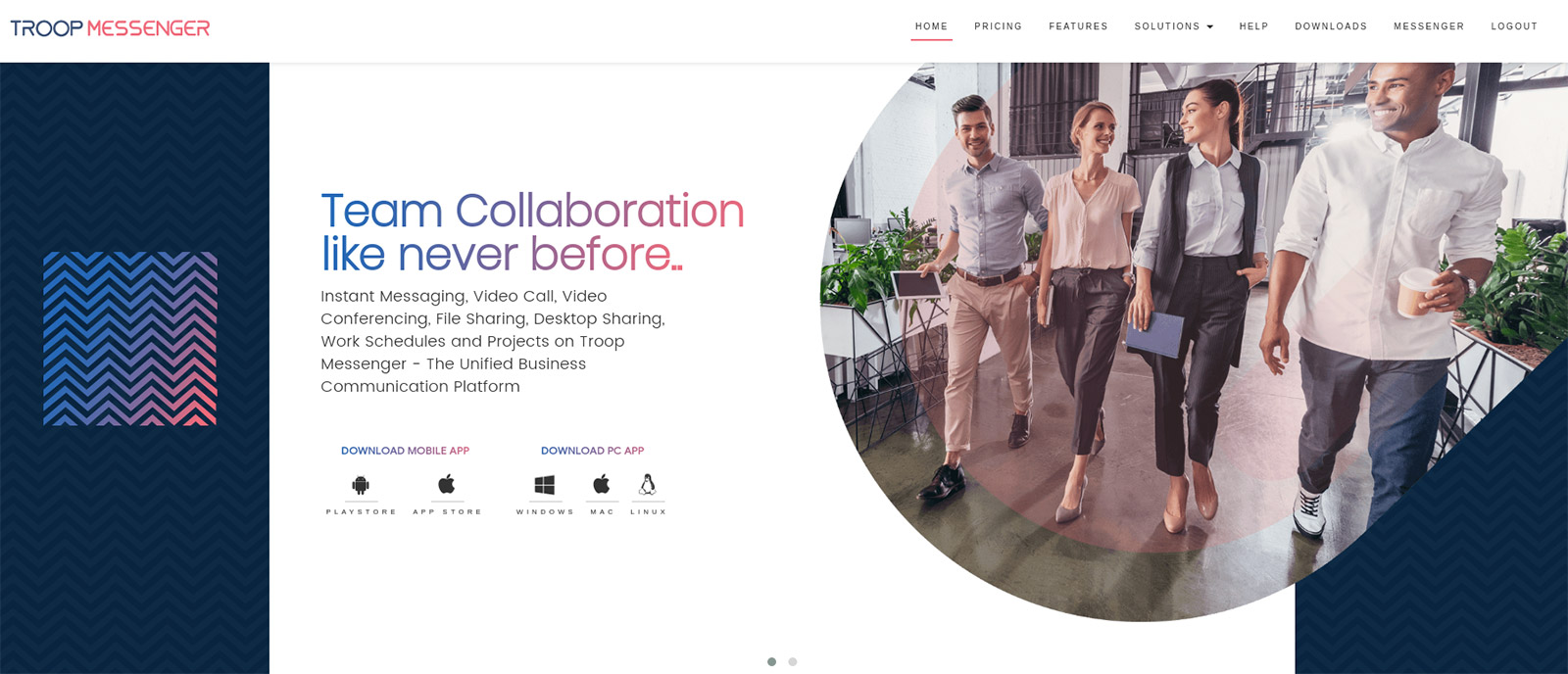 Being a SaaS freemium business model, it comes in three pricing variants; free, premium and enterprise. Business users can sign-up a free trial to try the features of an enterprise pricing variant.
BlueJeans
BlueJeans is a video conferencing platform aimed at professional teams' usage. It's designed with the capability to link multiple devices, support different browsers and operating systems, and connect many participants. BlueJeans account comes with a free 14-day trial, and it requires a work email to sign up, which indicates its professional intention only. Only the host of the video call needs to be a BlueJeans member, thus everyone with a meeting link can enter the call without having to register themselves even before the host logs in. The interface is intuitive and easy to use, perfectly designed for communication with remote teams.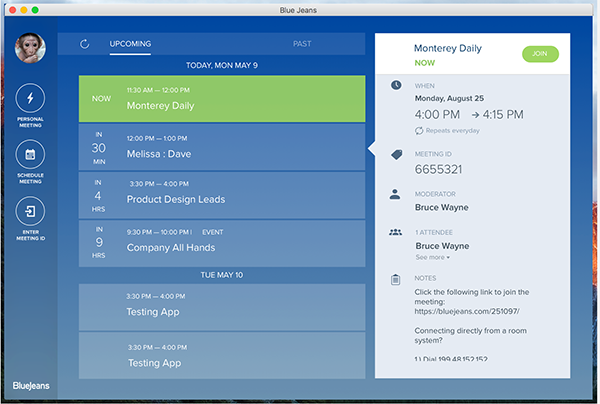 Key features:
Screen sharing
Recording options
Multiple access points
Intuitive and easy to launch
Key benefits:
Integration capabilities with other communication applications such as Microsoft Skype for Business, Cisco, and Slack, enable its users to start a video chat without having to leave those apps, empowering productivity and faster workflow.

A clean, functional, and flexible interface with multi-device and multi-platform support offering two-way face-to-face call services make BlueJeans a perfect solution for remote team collaboration.
Cons:
Not browser-based.
Lack of legibility on screen sharing.
No free options.
Ryver
Ryver is a business communication tool that came out of the need for a faster and more efficient communication process in today's business landscape. The software can be both used online and downloaded as an app with an unlimited number of users, guests, posts, data, chats. With its rich feature set offered entirely for free, integration with other business applications, and multiple OS capabilities, Ryver is taking team collaboration to a whole new level. The company promotes team collaboration, cohesion, and productivity, therefore works on creating such a communication service to meet modern business needs. Besides the group and direct messaging options, it is possible to chat with anyone outside the company completely privately, also for free. Encrypted using 256-bit encryption, guarantee a high level of security. Ryver integrates with a broad range of other applications, some of them are Evernote, Basecamp, Yammer, GitHub, and Salesforce.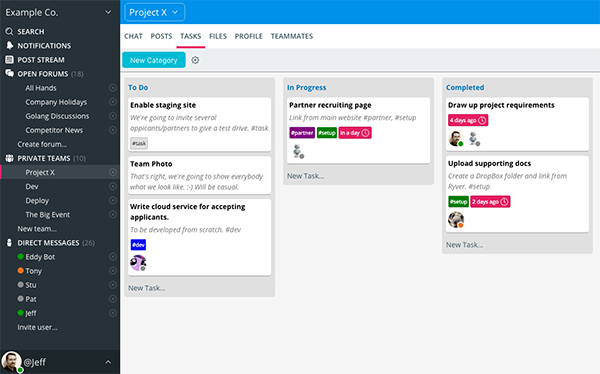 Key features:
Completely free
Group & direct messaging
Accessible on all devices
Multi-OS capabilities
Integration with other apps
256-bit encryption
Strong filtering
Searchable chat history kept forever
Key benefits:
With the option to chat with anyone outside the organization privately, securely, and for free, Ryver makes it possible to communicate with clients and other business partners seamlessly and more efficiently than via emails.

A completely free service with a rich feature set and unlimited everything (large files to send & receive, chat history, users, messages) offers an all-in-one communication tool that every modern business team needs.
Cons:
No voice call, video call, and screen sharing.
Collaboration-focused Tools:
Samepage
Samepage is a comprehensive collaboration solution created to help business teams work together with their clients, partners, vendors, and customers efficiently and productively. As the name suggests, the application is built to keep all your files and tools in one place on one page. Offering a diverse set of features from file sharing, task, and scheduling, simultaneous page editing, discussion topics, video chat, and messaging, the software is suitable for a wide range of companies and teams with different collaboration needs. With the ability to share any content format with anyone on one single page, Samepage makes project management go smooth. Integrations with Slack, YouTube, Dropbox, Google Drive, and other often-used apps make the whole team collaboration process a lot faster and better organized. The account setup is easy, it comes both as a mobile and desktop, with the option to give permission to anyone outside the company to see only what should be seen.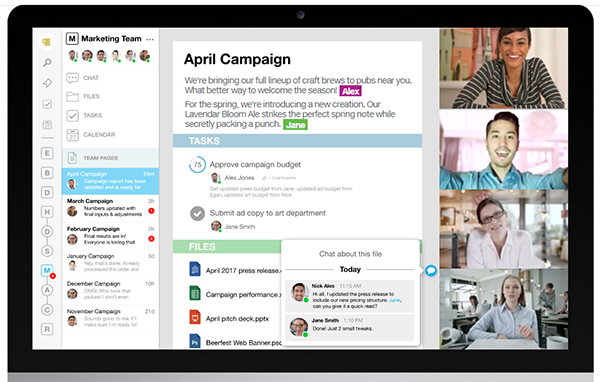 Key features:
File-sync capabilities
Multiple devices supported
Multiple languages supported
Mobile app for Android and iOS
Free trial
Video tutorials
Key benefits:
The same-page, easy-to-manage structure of Samepage allows its user to monitor task progress and discuss with other team members in real-time, which greatly saves time, increases productivity, and improves team communication.

A native both desktop and mobile app created for any platform make this service accessible to everyone, anytime, anywhere, from any device.

Diversity of features and integration capabilities with other apps through Zapier make Samepage a fully-fledged service for team collaboration and project management.
Cons:
No free options.
No email integration.
Huddle
Huddle is a cloud-based software that brings communication, project management, and file sharing together. It's good for small/medium businesses with teams that often collaborate with external partners and clients, and remote teams that work in different departments on the same project. Huddle integrates with Salesforce, SharePoint, Microsoft Office, and Google for Work, making task management seamless and productive. The software comes with a whiteboard, meetings, and discussion tool. It keeps everyone up to date with the latest document versions both internally and externally.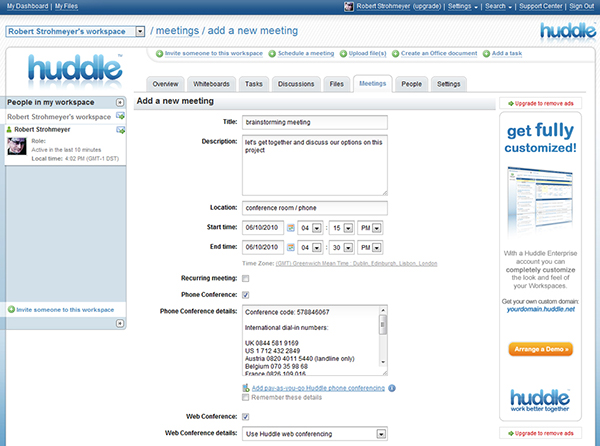 Key features:
Multiple languages supported
Multiple devices supported
Email integration
Cloud storage
Native mobile app
Key benefits:
The combination of communication, file sharing, and task management features makes this application an efficient project management tool.

The 90-day money-back guarantee provides flexibility and opportunity to test the software and decide if you like it with no expense if you don't.

With the Microsoft Office integration option and the ability to sync all files across all devices, Huddle makes it possible to access, create, and edit documents directly in Microsoft Office from any device.
Cons:
Not free, relatively expensive.
Free 90-day trial, but with 100MB of online storage space and other limitations.
No group chat.
Fyle
Fyle is an AI-enabled expense management software that can automate all the mundane tasks, from expense reporting and tracking to employee reimbursement. The automation tool can easily boost the finance team and employees' productivity.
Fyle ensures employees track and submit error-free expense reports on time, always. It has an inbuilt policy check engine that identifies out-of-policy expenses and auto-audit expense reports in real-time. The tool can also automate the credit card reconciliation process, which means finance teams don't have to match each expense to the transaction statement manually. Fyle also allows you to seamlessly integrate with your existing accounting software/HRMS/ERP, making data migration smooth and reducing manual work and errors in the process.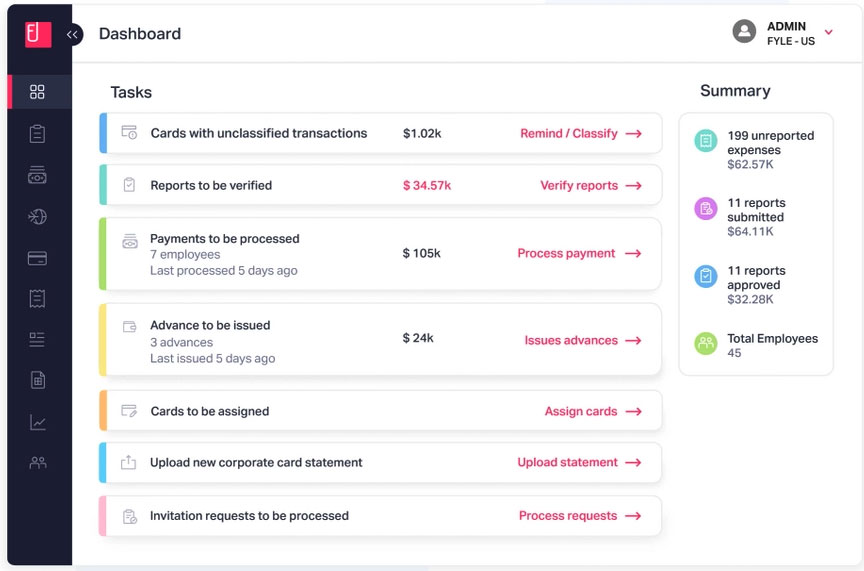 Key features:
Receipt scanning

Gmail and Outlook add-ons

Per diem and mileage tracking

Automatic card expense reconciliations

Direct bank feeds

Custom workflow

Digital audit trails

ACH payments (US only)

Bulk payments

Direct integration with accounting software

API-based integrations
Key benefits:
You can set up your expense approval workflow based on your organization's hierarchy and integrate your T&E policies into the software. This ensures timely submission, approval, reimbursement, and curbing unnecessary back and forth in the process.

The tool uses OCR technology to scan receipts, extract crucial data, and auto-fill the digital expense report in just a few clicks. This can cut down manual data entry tasks and eliminate human-prone errors.

Since all business expense data are stored under one platform, finance teams can use the collated data to identify spending trends and patterns and make informed decisions.


RealtimeBoard
RealtimeBoard is designed for simple and visual team collaboration from brainstorming to review. The service offers real-time collaboration, ideally suitable for remote teams and agile management. Developed with an infinite and highly visual whiteboard, RealtimeBoard allows its users to create a concept, generate ideas, leave feedback, post stickers, write mock-ups and schemes. Designed to boost creativity, the application is built for design thinking processes and teams working on creative concepts. Text, voice, and video calls are all possible with this service, which also integrates with Trello, Box, Google Drive, Dropbox, OneDrive, Google Contacts, Facebook, Slack, and JIRA. Whiteboards can be downloaded as PDFs and images, and also shared across social media or blogs. Upload formats supported are PDF, pics, docs, Google Drive files, and YouTube videos.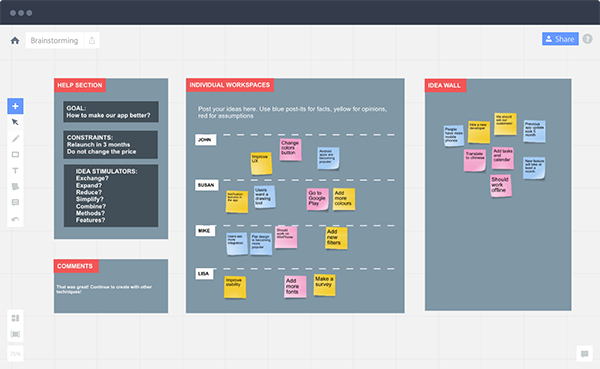 Key features:
Visuality
Pen feature
Templates
Interactive library
Endless whiteboard
Sticky notes
Integrations with various apps
Extension for Google Chrome
Key benefits:
Real-time functionality with face-to-face chat options brings remote teams together and makes them feel a part of the team.

Infinite canvas with a lot of tools boosts creativity and makes visual planning meetings and brainstorming sessions a whole lot easier.
Cons:
Requires guidance to learn how to use it
No phone support
Free services limited to 3 board, 3 users per board, and 100MB of storage space
ProofHub
Successful teams thrive on seamless collaboration across various departments, and this is exactly what ProofHub empowers businesses and teams to achieve. An intuitive and powerful project management and team collaboration tool, ProofHub offers a suite of advanced features that allow you to efficiently organize, manage, and collaborate on all your work from one place. You don't need to rely on long, messy email chains for collaboration as ProofHub facilitates a quick exchange of information with features such as smart task assignment, Instant chat, Online proofing, File sharing, Board view, etc. Easy to use with a simple learning curve, ProofHub allows you to continuously monitor your tasks and projects to stay on top of deadlines. Since the tool is compatible with multiple devices and supports every platform (Windows, Linux, Ubuntu, iOS, Android, Chrome, etc.), you can access your ProofHub account on any device and collaborate with others even on the go.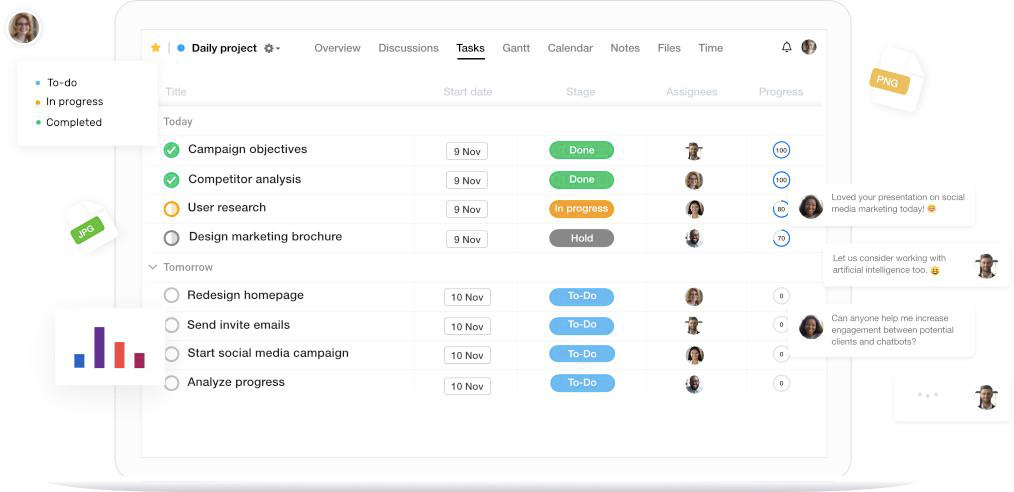 Key features:
Instant chat

Online proofing

Custom workflows

Task management

Workload reports

Time tracking

Multiple views (Gantt, Board, Table, Calendar)

Notes, stickies & bookmarks

File management
Key benefits:
A single tool offers a suite of project management and team collaboration features put in one place, thus allowing users to have ultimate control over their work while eliminating the need to switch between various tools.

Helps users to eliminate chaotic, unorganized work with streamlined, customized workflows to ensure optimal utilization of resources.

Encourages transparency and job accountability through smart task management as users have a clear picture of what tasks they are assigned to, whom they have to collaborate with (in case of group tasks), and estimated timelines.

User-friendly interface makes for effortless navigation and even new users find it hassle-free to use.
Cons:
Designed for teams of any size but not suitable for individual users.
Conclusion
As you've probably figured out yourself, the list can go on forever. There's no way to cover all the tools available, neither to find the one-fits-all. Every team has its own way of communication and collaboration, diverse needs and habits, and most importantly different company cultures behind it. Tools don't solve problems, they just make it easier to do things you already do. Therefore in order to get the most out of any tools you choose, think about whether it fits your company culture and how it clicks with your team.
So what's your favorite collaboration tool? Did you find the right for you? Is there any other online communication tool out there worth mentioning? We'd love to hear your thoughts!