Nowadays, internal communication doesn't get the attention it deserves. Nevertheless, people-related challenges are a common part of every workplace. As cross-planet communication is established within seconds and borders become fictive in the world of technology, internal communication leaders are needed more than ever as glue to keep puzzle pieces together.
Luckily, there are many excellent communication influencers who are very active on Twitter sharing insights from the industry and engaging in crucial conversations on a regular basis. If you want to keep up with the world of internal communication and get all those best practices tips and knowledge, make sure to follow these 10 influential Twitter accounts:
1. Rachel Miller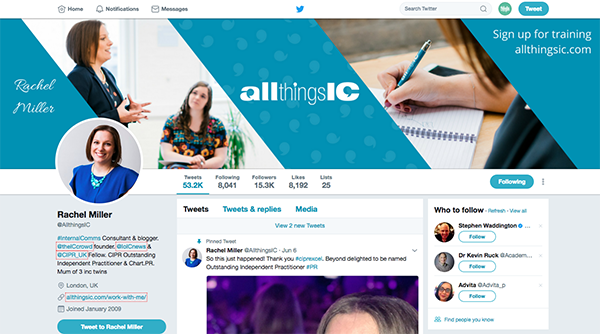 Rachel Miller spent almost 20 years in the communication business including in-house and journalism. During her career, she contributed to many books and received numerous awards for outstanding success in the field. As a director of All Things IC, Rachel helps organizations overcome problems related to poor communication and disengagement. Some of the brands that have hired her are ARM, the Guardian, NHS, Telefonica, Camden, and many others.
A large follower database with heavily liked and retweeted posts makes Rachel's Twitter account highly influential in her niche. If your company has a fear of change and seeks advice on how to improve communication channels, Rachel's Twitter wall, which you can follow at @AllthingsIC is a great source of information you don't want to miss.
2. Ben Watts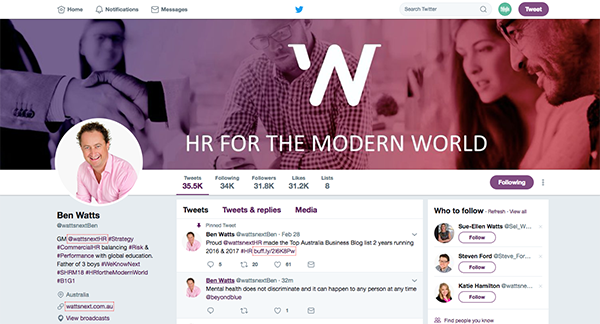 Ben Watts is a GM at Wattsnext, an Australian-based modern HR advising company, successfully serving big names such as Accru, Ellivo, BMS, CNS Partners, and others. With more than 10 years of successful track record, Wattsnext's professionals aim to create great workplaces for their clients because they have encountered all people-related issues in the past.
Ben's Twitter account at @wattsnextBen promotes tips and tricks on how to create a positive company culture and maintain healthy relationships with other employees. You can find great motivational articles to help you keep going through stressful periods, insights on what to do to be more productive, and advice on how to stay motivated and engaged throughout the tough moments at work.
3. Institute of IC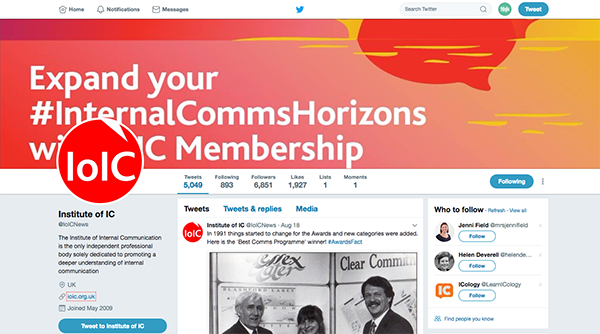 The Institute of Internal Communication is the only independent professional body solely dedicated to promoting a deeper understanding of internal communication. They have been setting standards for internal comms for more than 65 years, which makes the Institute one of the most influential entities in the field. The Institute of IC is for everyone who's interested in making the workplace better.
The Institute tends to engage their audience on Twitter by asking or retweeting industry-relevant questions, such as what issues with internal communication others experience, how organizations engage staff during reorganizations, etc. In this way, you can find an invaluable source of useful information at @IoICNews from a wide range of professionals in the field. Additionally, the Institute promotes webinars across social media for everyone interested to learn more about the IC world.
4. Poppulo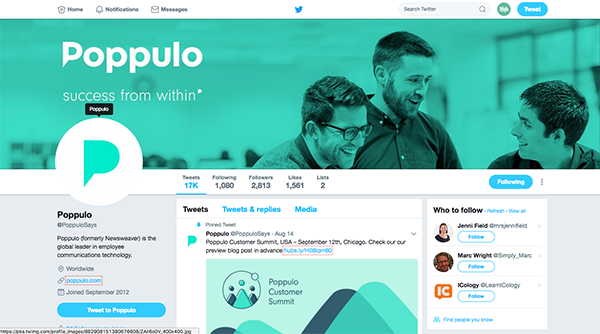 Poppulo is an Ireland-based organization that helps companies worldwide unlock the potential of their people. With offices in the US and UK, Poppulo is an all-in-one built a platform for organizations to support internal communication and increase productivity.
Poppulo is big on the blog. You can find an endless list of great content related to internal communications and best practices, which is regularly shared on their Twitter account. If you prefer listening over reading, they got you covered with webinars to help you see opportunities in challenges encountered with coworkers. Follow @PoppuloSays on Twitter to always be on top of the IC game.
5. IC Kollectif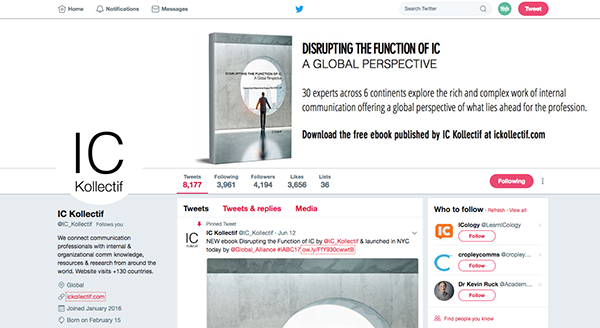 IC Kollectif is a nonprofit organization dedicated to advancing the internal communication profession globally. The way they do it is through aggregating and facilitating access to relevant knowledge, research, and resources from industry influencers, leaders, and practitioners. This organization is a global catalyst when it comes to internal and organizational communication.
Relevant content can be found on the IC Kollectif website, as well as on their Twitter account, which is updated with newly published knowledge, articles, and interviews with thought leaders in the industry. If you seek fresh insights from the IC industry, @IC_Kollectif is a must-follow.
6. Mike Klein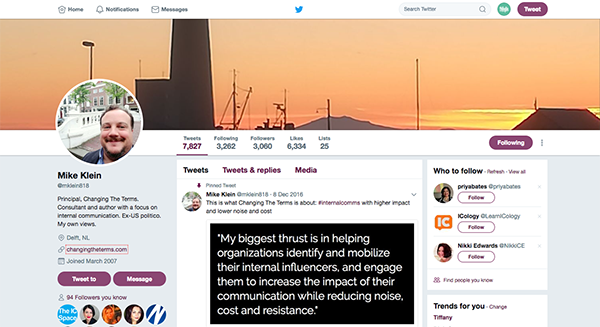 Mike Klein helps organizations identify internal communication influencers and coaches them on how to address internal conversational challenges. Mike holds an MBA from London Business School with 15 years of experience working in the world's leading organization.
On his blogging-based web page, Changing The Terms, Mike freely shares his knowledge and teaches influencers how to productively lead successful internal conversations. Follow Mike on Twitter at @mklein818 and be the first to read his frequently shared IC-related stories.
7. Lee Smith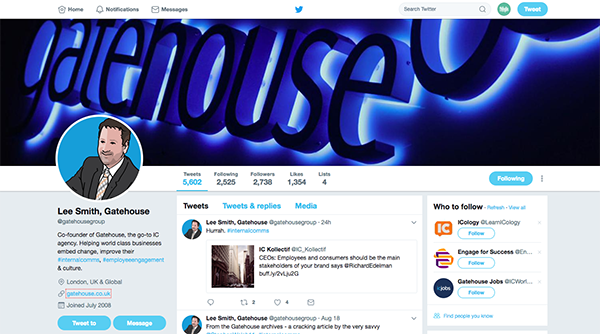 Lee Smith is a co-founder of Gatehouse, the go-to IC agency. Similar to Mike's vocation, Lee's company helps organizations, leaders, and managers engage, motivate, and inspire their people. With more than a decade of experience in business, Gatehouse manages to unlock employee engagement through creative training services and sessions.
Lee's Twitter account covers a diverse range of topics with different approaches to internal communication challenges that companies worldwide face today. Find Lee at @gatehousegroup and we guarantee you will find something of interest to you.
8. PR Academy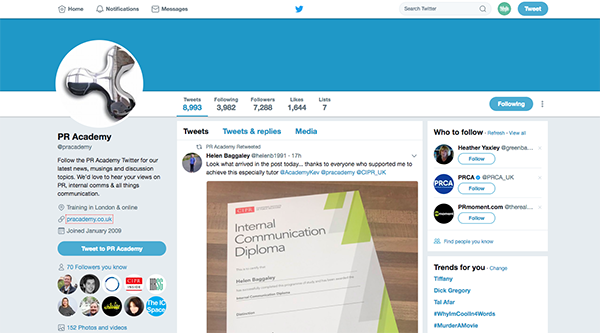 PR Academy is the world's leading provider of public relations and communication education. They work with top awarding bodies, such as CIPR, UoC, APM, and AMEC. The average pass rate of over 90% says a lot about the Academy's highly experienced tutors and talented communication practitioners.
Follow the PR Academy Twitter account at @pracademy for their latest news, musings, and discussion topics. They also encourage their followers to share views on all things internal communication, so get ready to join in.
9. Headlines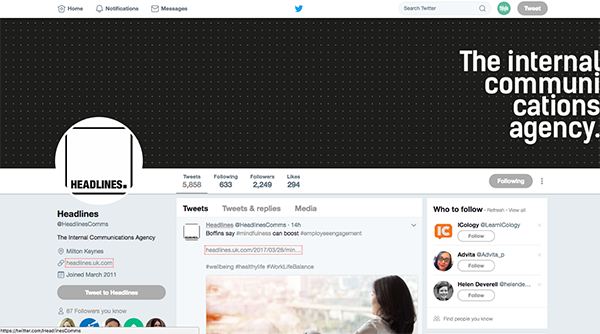 Headlines is an Internal Communication Agency based in the UK. Their creative and highly experienced professionals deliver outstanding internal communications to help companies engage their employees and ignite healthier conversations. Headlines are solely focused on changing behavior and helping organizations build a happier place to work.
Workplace friendships, employee engagement, online Q&A sessions, and qualities of top internal comms managers are just some of the topics Headline promotes on Twitter. If you'd like to learn how to become an expert in internal comms, following their Twitter account at @HeadlinesComms would be a great start.
10. Steve Crescenzo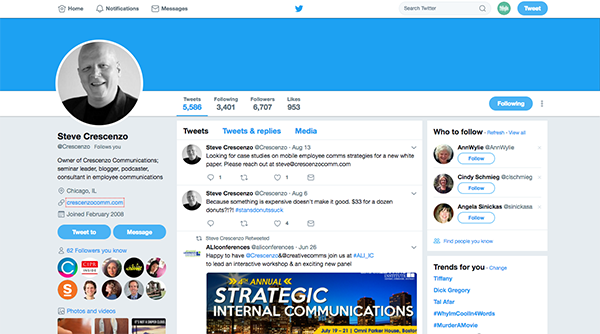 Steve is the owner of Crescenzo Communication and a seminar leader, blogger, podcaster, and consultant in employee communications. Crescenzo tailors their services to help managers and leaders communicate the most important things to the relevant audiences.
Steve is a great follow at @crescenzo. Find interesting reads and podcasts, industry events, any other fun stuff shared on his Twitter account.

---

There's no way to cover everyone worth mentioning. There are many thought leaders in the industry out there who would make a great follow. What do you think? Who do you follow? Let us know!

BlogIn is a beautifully simple internal blog and knowledge-sharing platform for teams of all sizes.
Start 14-day free trial
or
get more information