There's so much to love about emojis. Emoji icons can bring a dose of fun and refreshment to the sometimes too formal and serious business communication. Emoticons also offer a great way to convey humor, feelings and emotions about a topic, with hundreds of emoji icons available.
In BlogIn, you can type emoji shortcodes ( e.g. :smile: or :sunglasses: ) directly in your post or comment text, or you can just type : (a colon) to bring the smart short list of available emoji icons you can choose from.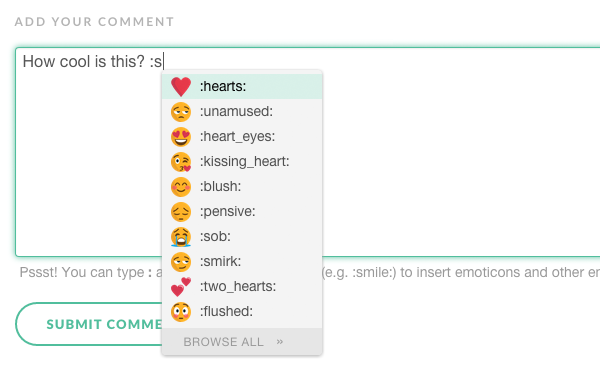 Ascii versions of popular smileys are also supported, so you can just type :) :D <3 in the post or comment text.

Mobile devices
You can also use emoji on your mobile devices, here is how to activate Emoji keyboard for your mobile platform.
iOS: Settings > General > Keyboards > Keyboards > Add new keyboard > Emoji. Once you've added the emoji keyboard, it will be a selectable keyboard in the Evernote note editor (look for the globe key).

Android: Adding emoji keyboards will depend on your device. Here's how to add yours.
Great Emoji artwork and library are provided free by Emoji One.