Looking for ways to boost your knowledge and skills? Care to meet fellow communicators and practitioners and expand your professional network?
On one side, conferences are a great opportunity to meet like-minded enthusiasts, and on another, to learn the latest techniques, practices, and trends from distinguished authors and speakers.
We have created the list of the upcoming conferences on internal communications from January to July 2018. To help you choose the right conference for you, we decided to list the event based on the focus industry. However, these events are rarely focused on only one topic, but on the related industries.
Prepare for some great conferences on all things internal communications in 2018 and have fun exploring!
Internal communications conferences
January
A one-day networking event to learn more about engagement and how to reach a diverse audience, new technologies, and innovation in the industry, workplaces, and content and channel strategies. Listen to experts from renowned private and public companies who will share their knowledge and skills.
February
Two days of sessions and talks explore the lines and relationship between internal communications, marketing, and PR. The event is focused on providing practical tips for creating and producing content and campaigns that engage the internal and external audience and help organizations grow but also overcome the crisis. The event is for those who want to learn more about new communication approaches and techniques.
The event brings together internal communication experts from the leading Fortune 500 companies to discuss tactics and tools we can use to create an engaged and empowered workforce. The focus is exploring comprehensive, agile internal communication strategies.
March
If you want to learn more about how to create a company culture that fits the mission of the organization and business goals, and boost employee engagement, attend a two-day event and discover the best practice from the leading experts in internal communication, change management, public affair, and employee branding and engagement. Stay current with news following #RaganInternalComms.
The world of internal communication is expanding, embracing the knowledge from related industries to continue to explore new possibilities for business.
Great communication is defined not by what you say but by what is heard and believed. More than that, great communication is defined by what people actually do as a result.
This event is your gate to the future of IC. Discover good practices and tactics adopted by successful brands and learn how you can apply behavioral science to unlock new knowledge at deeper levels in a series of interactive sessions. The conference is a must for progressive IC leaders, communications, and employment engagement seniors.
May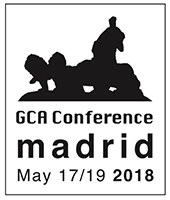 Global Communication Association was established in 2007 with a goal to promote academic collaboration among major universities around the world. If you are interested in exploring the science of communication submit your research paper on the subjects of populism, media, politics, and immigration in a globalized world, in particular:
Global media and communication methodologies, theories, and perspectives
Global media and their impacts on public opinion
The changing nature of presidential elections and public demands
New communication technologies, the Internet, and social media
World population, environment, and intercultural communication
June

Last year the conference gathered over 600 communication professionals to discuss the latest developments and share knowledge. The focus of the event is to explore how communications can promote collaboration while discovering new technologies that can empower engagement and knowledge sharing. Thought leaders from renowned brands such as BBC, National Geographic, NASA, and UNHCR, to name a few, are sharing with you their experience and tips.
If you care to discover how to refine and define your internal communication strategy visit the conference to learn the best practice and gather insight from leaders in internal communication and management. Talks and sessions cover internal communication challenges, workplace digital transformation, organizational change, social media, and employee engagement. Do not miss two interactive panel discussions on Social Media Advisory Board and Technology, Tools & Apps Panel.
Employee communication & engagement conferences
March
For the third year, the event is bringing together world-class thought leaders from a wide range of companies and sectors to discuss employee engagement, customer management, and the future of engagement. Case studies and presentations from 20 renowned speakers are packed in one day for the best boost of knowledge.
The event is about innovations, trends, and strategies in work and workspace fields, and this year the focus in on the assets strategies and opportunities. Top leaders in various specializations will explore digital workspace trends, transformations of the digital workspace and its challenges, health and work environment, the design and technology of workspace, the management of remote workspaces, employee needs and engagement, and HR. Listen to experts from IBM, Quora, Oracle, Google, LG, Lego, and many more.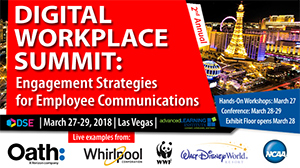 The 2nd annual digital workplace summit is bringing attention to employee engagement. Internal communication professionals and experts from the leading organization will share their tips, advice, and best practice on how to overcome employee engagement challenges and create the best engagement strategies with new digital tools and channels. You will learn how to better communicate and engage with employees and how to choose the best digital communication channels.
Dubbed as Europe's best employee engagement event, the fourth summit brings focus group sessions, case study presentations, and knowledge and expertise from the world's thought leaders and professionals. The topics to be explored are internal communication and employee and customer engagements, evolution, and future of work, leadership, change management, and well-being by 45+ speakers at the event.
Organized together with The PRSA Employee Communications, this conference is for the internal communicators who want to stay current on today's quickly evolving industries, thus exploring the emerging practice and all innovative techniques that empower employees should be the focus of every internal communication enthusiast. This is what this conference is about - providing practical advice and actionable insight on everything related to employee management. Join the conversation and follow news about the conference with #prsaconnect.
June
Produced by SMG/CMSWire, the second Digital Workplace Experience conference is centered around the defining digital workplace and sharing the latest knowledge around best practices, The event is gathering the enterprise-level digital workplace leaders to discuss employee experience and digital workplace, organizational leadership, employee management and explore new technology platforms. A three-day event offers live demos, workshops, co-working sessions, innovation panels, and many networking opportunities for those who want to be the leaders in the digital workplace.
Corporate and business communication
February

A one-day event where 31 speakers will share their advice and insights about corporate communication strategies and challenges. There are two interactive panel discussions that will explore internal collaboration and work with journalists. PR experts, communicators and external relation managers are most welcomed to visit the conference.

April
EuroComm
9th - 10th, Copenhagen, Denmark
In the organization of the International Association of Business Communicators, the event is one of the must-attend conferences for business communicators. The theme Communication, Technology, and Participation is the focus of the professional communicators this year. Speakers are to be announced, follow their Twitter to get the latest news.
May

Previously known as the SharePoint conference, the event is a two-day gathering of the best in the communication industry. Agenda and the speakers are to be presented, but you can expect good practical insights and case studies on thought leadership, digital workplace, business productivity, and many subjects of interest for content and IT professionals.

June

The Enterprise Digital SUMMIT is an event dedicated to exploring trends and the future of digital transformation of the work organization and digital enterprise. The goal of the conference is to help attendees leave with practical experience and lessons, thus the talks are dominated by case studies and best practice presentations.
The conference is about strategies and tactics that will help professionals from the field of internal communication, corporate communication, employee engagement, social media, and public relationship sharpen their knowledge and skills. If you want to get step-by-step guides about how to create a direct link with your audience with corporate branded journalism, or how to manage freelance and contract workers and align your business goals with the internal communication practice and strategies, this event is for you.
PR and communication
February
In the organization of PR News, the conference is branded as the event for the next-gen communicators. Workshops, practical advice, and case studies are coming from world-renowned professionals and communicators A two-day event will explore topics like PR measurement, paid social, SEO, PR measurement, crisis communications and management, internal communication strategy, brand management, artificial intelligence, video content, and more.
April
In three days, savvy PR practitioners and experts will share with you the best practices for the PR strategies. If you want to learn effective storytelling techniques, discover how to position your brand with engaging copy and content, and find out how to secure social media engagement, get ready for the great networking opportunity and learning experience. Pre-conference workshops are scheduled for 3rd April.
June
The summit is dedicated to exploring the challenges and the latest trends in the PR world. Speakers from the world's famous companies such as Lego, Sony Music BBC, BP America, and Nielsen will be sharing their knowledge and predictions. Book your place to get an opportunity to learn more about cybercrime, fake news, crisis communications, content PR, influencer PR, and integrated communications.

#PR Fest
14th - 15th, Edinburgh, UK
The theme of #PRFest is "putting the human back into public relations". The festival is in its third year bringing more focus on practical PR learning, sharing, and collaborating. The important part of the event is the goal to help PR practitioners and all other enthusiasts develop their skills and broaden their knowledge.
The 10th Global Summit on measurement should be on agenda for every PR and communication consultant, evaluation professionals, and marketing professionals. As a global conference dedicated to communications measurement and research, this year is in the sign of Three i's of insights, innovation, and integration.
Is there any chance we missed to include a great conference? Share with us in the comments.