Moving from a central office to a remote workforce is the modern shift that many businesses need. However, it can mean massive changes for your entire company — especially within your human resources team.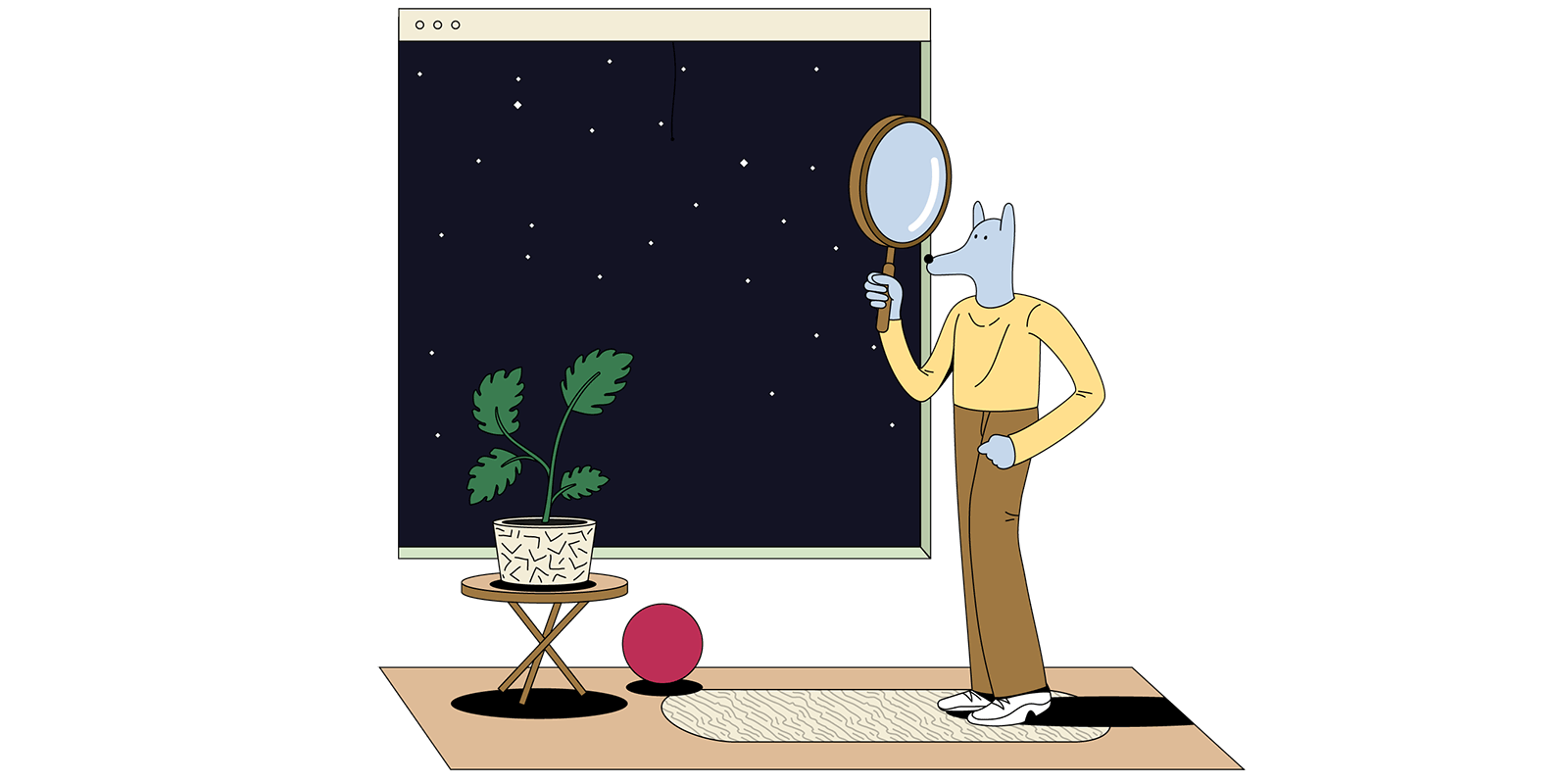 When team members no longer share a workspace, HR professionals can no longer depend on traditional practices to hire, nurture, and offboard employees. Remote HR teams must make systematic changes to maintain positive relationships with virtual workers.
Rethinking the human resources life cycle is key to helping employees (both new and old) navigate the transition and remote future with grace.
So what's the HR life cycle? And how do you bring yours up-to-date with your new remote team? We'll provide insights and tips that your HR department can use.
What Is the Human Resources Life Cycle?
The human resources life cycle is the journey that a team member takes over the duration of their employment. Also known as the employee life cycle, it begins when an employee begins their relationship with the company during the recruitment phase and ends when they leave your company.
A typical HR lifecycle includes these five steps:
Recruit: This stage is all about attracting talent, informing job candidates about a position, evaluating their ability to succeed in the role, and gauging culture fit.

Onboard: After new hires are selected, there comes an adjustment period, during which they can learn the ins and outs of their role, your organization, and your culture.

Develop: As employees settle into their roles, HR teams must help them improve their performance so your organization can meet broader business goals.

Retain: To prevent employee turnover, workers must have the opportunity to improve their knowledge, skills, and contributions, which may lead to promotions, raises, and other long-term employee benefits.

Offboard: When employees leave the company — whether joining a new company, retiring, or let go by your organization — a strong offboarding process ensures there's no bad blood.
How to Build an Up-to-Date HR Lifecycle
While the five stages of the employee life cycle stay the same no matter where your team members are working, what happens within them inevitably changes when you go remote. We'll explain why your established processes may become out of date, as well as how you can create an HR life cycle that caters to the virtual workplace, one stage at a time.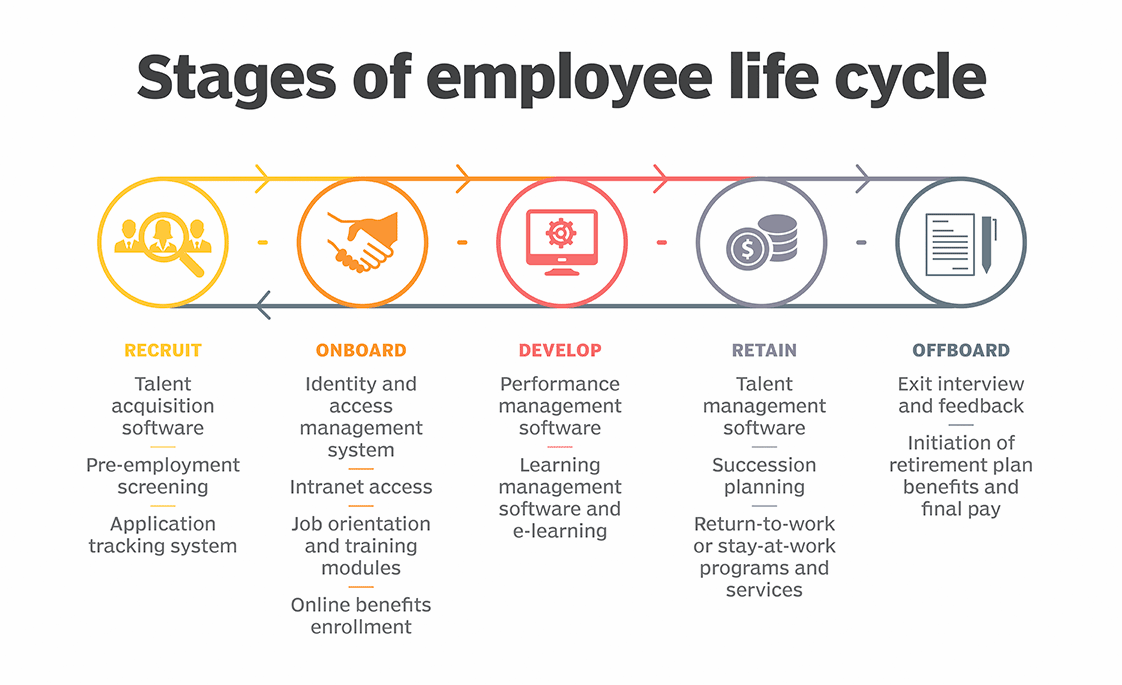 Recruit
Going remote means you're no longer exclusively attracting and interviewing local professionals. This means human resources teams need to update their HR life cycle in two key ways. First, they need to change how they're marketing their organization to potential employees. Second, they need to more clearly communicate the demands of a now-remote position.
To make a positive first impression on employees, consider what perks remote employees are looking for. For example, since job candidates may be new to the remote worker lifestyle, you can promote employee benefits like a stipend for office furniture and equipment.
In your job description and when you speak to job candidates, make sure you clarify the ideal qualities of a remote worker — for instance, strong communication — and what remote day-to-day looks like.
Onboard
When you go remote, you can't literally walk your employees through their day-to-day. However, it's still important to have a high-touch onboarding phase that helps your new hires feel supported as they dive into their roles.
Finding new means of communication is key to helping employees get immediate the information they need. For instance, you can create an internal blog to act as a knowledge base for employees, or implement video conferencing tools that managers can use for walkthroughs and team introductions.
Hiring additional HR team members can help you build a more hands-on onboarding phase. Consider hiring HR professionals with an MBA, which helps them cultivate transferable skills that can be used in any work setting.
Develop
Helping remote employees perform better is all about making goals and expectations clear. While employees won't be working face-to-face, your HR team should still ensure they're given the feedback they need — for instance, through one-and-ones and performance reviews or reviews on task management software.
In addition, communicate SMART objectives — those that are specific, measurable, attainable, realistic, and time-bound — instead of broad goals. This helps remote employees understand exactly what they need to do to succeed.
Retain
Keeping great employees satisfied in their roles can be difficult when your HR team can't engage with them in person. This makes it even more important for you to understand employees' professional goals and help them access learning opportunities like remote webinars and video-based mentorship.
Additionally, set aside time to evaluate team members' contributions monthly, so you know when they should be rewarded for their efforts.
Offboard
Whether you're working remotely or in person, employee turnover can occur. Even long-term employees may eventually want to change career paths or retire — and you may need to fire or lay off some team members. Regardless of why they leave, HR teams must create a positive offboarding process with plenty of documentation.
Implement digital tools in your offboarding process to make exit interviews feel more thoughtful and personalized. In addition, consider how you can maintain consistent communication with remote team members to keep them engaged, rather than letting their quality of work slip.
Once you offboard your employee, consider how you can support your current team members through the transition. For instance, you can use project management platforms to see whose workload has increased due to the former employee's exit and allocate some of their tasks to available team members. Plus, you can host virtual team-building exercises or strategy sessions to boost morale within the former employee's department.
Create an Employee Life Cycle That's Fit for Remote Workers
The HR life cycle changes when you go remote, but that doesn't mean you need to lose employees along the way. Fostering great employee relationships is all about communicating roles and goals wisely, providing remote development opportunities, and establishing a positive offboarding process. Start researching new tools and techniques that you can implement to help your employees succeed.