If you're reading these lines, chances are that you're probably aware of the fact that Google+ has officially drawn the curtain on its 8-year existence on April 2, 2019. Despite Google's strongest efforts, the platform never gained enough of a foothold in the social network arena to truly rival the likes of Facebook and Twitter.
Almost as a side-effect, Google+ did find a more welcoming audience in the entrepreneurial realm. A number of platform features did make it a fairly convenient and effective tool for some aspects of internal communication within organizations, and many took notice. Options such as Circles and Collections made it easy to organize communication on the individual, team, and organizational level, while the platform's clean and simplistic interface with an excellent display of visual content was well suited for resource sharing.
Best of all - it was free and posed no limits on the number of individuals within a certain Circle. With just a little bit of attention to privacy settings, organizations had an easy time keeping all of their internal communication on Google+ in-house.
With the consumer version of Google+ finally closing shop, many organizations are left scrambling for a suitable alternative. If you've found yourself in this situation, there's good news and bad news.
The good news is that options at the disposal of your organization are numerous. The bad news is that no platform is a like-for-like replacement, and it will take time to get accustomed to any choice you make.
Your choice will be dictated by how you utilized Google+ and what communication issues you wish your new solution to resolve - whether it's instant communication, knowledge sharing, work organization, or plain old socialization.
Let's take a look at some of the popular alternatives that can replace some or all aspects of the now-defunct Google+.
G Suite
If you are truly in love with Google+ as an internal communication tool and can't imagine your workday without it, the obvious answer would be G Suite. Google has apparently recognized the potential of Google+ for business purposes, since it has kept the social network a part of its comprehensive premium package, and recently added several features to make it even more suited for enterprises.

The obvious problem, however, is that G Suite is not free. This can get especially pricy for larger collectives, as the price is dictated by the number of users. This will be an immediate disqualifier for many teams and organizations, but there's no denying that Google's extensive collection of tools represents a powerful vehicle for internal communication, among other things.
BlogIn
The great thing about using Google+ on a team level was the convenience and ease of organizing and moderating conversations. The platform's familiar setting and the simple system of sorting conversations through Circles and +1 options made it a popular tool for team level communication.
Still, Google+ was hardly a comprehensive all-in-one solution for businesses. It was well suited for certain types of communication, but it was necessary to combine it with other tools (email, chat, task management tools, etc.) to keep everything in check.
If you are, however, looking for a simple solution that is naturally suited for internal communication, look no further than BlogIn. The internal blogging platform possesses the same level of user-friendly simplicity, yet offers a variety of features that make it suitable for everything from one-on-one collaboration to company-wide communication.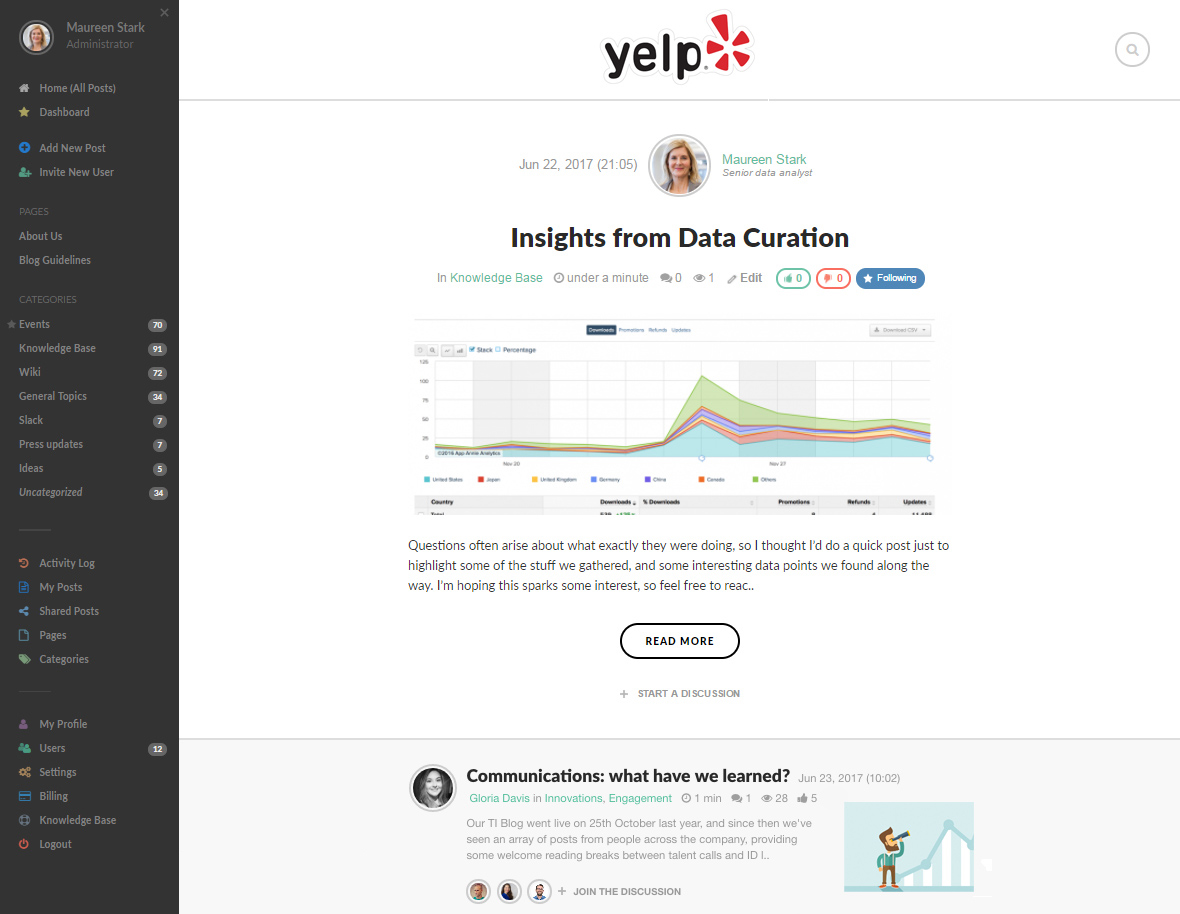 Information, collaboration, administration, knowledge transfer, employee engagement, company culture — whatever type of communicational challenge you wish to resolve, BlogIn provides a ready-made platform that allows you to streamline and organize internal communication in an intuitive and efficient manner.
Workplace by Facebook
With its Workplace platform, Facebook aims to translate the universal familiarity of its social networks to the enterprise realm. In a lot of ways, Workplace is no different than its parent social network. There's the familiar news feed, individual users who you can follow, groups that you can join and create, etc. If the social component of Google+ was the thing you liked about it the most, then Workplace could just be the right alternative.
It's easy to utilize different functionalities for different types of communication: messenger for real-time discussions, groups, and posts for a more moderated communication, newsfeed posts for company-wide or team-wide information. Another great thing about it is that the Standard package is free with an unlimited number of users. It comes without a number of enterprise-specific features, but it does work well for workplace communication. It is still far from a comprehensive solution for team collaboration, but depending on your internal communication needs it might be the right fit.
Miro
If the visual aspect of Google+ represented the main draw for your professional team,
Miro
could prove to be a worthy replacement. More famously known as
RealtimeBoard
until just recently, the now rebranded platform still offers the same tidy visual collaboration features that made it a popular tool in the first place. It works as a sort of a virtual whiteboard that's ideal for teams that prefer visual planning. The platform is very flexible and can easily adapt to a variety of professional demands. It is also enterprise-centric and has a number of features that will help teams collaborate effectively. It enables feedback and communication, which allows it to serve as a sort of a central hub for more urgent, ongoing types of communication.
It is not, however, best suited as a complete internal communication platform and you will probably need one or more additional tools to answer all demands of team communication. It could be a very handy tool in everyday work, though, particularly for designers, marketers, and other professionals dealing with large volumes of visual content or employing visual planning techniques. The free pricing plan is not best suited for larger teams, as it is limited to only five boards, but the commercial option is fairly affordable and could be good value if Miro helps your teamwork easier and smarter.
Samepage
A jack-of-all-trades platform for internal communication and collaboration,
Samepage
does a bit of everything to keep all relevant internal communication in a fairly organized central hub. It incorporates everything from real-time communication features to task management, and it even comes with a fairly functional mobile application to round out the all-in-one package.
The platform's key quality is its adaptability, as it offers a broad set of customization options that can adjust to a number of different professional settings. This quality is also its key setback. Samepage takes some time to figure out and get comfortable, making it an unpopular choice for teams looking for simple out-of-the-box solutions that feel familiar and intuitive. There is no doubt that it can be a powerful internal platform, but many teams will lack the patience and effort necessary to make it work. On the other hand, it has a free pricing plan - not something you can say about most of their more popular competitors.
The free version comes with limitations on pretty much everything - chat history, storage size, and features, but smaller teams could find it useful. Larger teams would have to consider the commercial version, which is still favorably priced compared to most competitors, but if you're paying you may prefer a more instantly user-friendly alternative.
Ultimately, your choice of a Google+ alternative will greatly depend on the manner your team has utilized Google+ in the first place. As we've said, there is no like-for-like alternative and you may have to combine several tools to cover the full spectrum of your communication requirements. The first step to finding the right solution is assessing the gap left by the platform's demise and understanding the issues you wish to resolve. We hope that these lines have helped you narrow down your choices.