Zapier is an online automation tool that connects your favorite apps, such as Gmail, BlogIn, Slack, MailChimp, and over 1,000 more. You can use Zapier to connect BlogIn with third-party apps and services to automate repetitive tasks without coding or relying on developers to build the integration.
For example, you can use Zapier to automatically create a new post on BlogIn whenever a new event is created on your Google Calendar. Or you could create a new task on Asana whenever a new post is published in a certain category on BlogIn.
Basic Zapier terms

Zap
A Zap is an automated workflow between your apps on Zapier. For example, you may have a Zap that creates a new post on BlogIn for each email that you star in Gmail. Zaps consist of at least two parts: a Trigger and one or more Actions.
Trigger
A Trigger is an event in an app that starts the Zap. Once you set up a Zap, Zapier will monitor the app for that event. For the "Send starred emails from Gmail to BlogIn" example, you can receive a lot of emails through your Gmail account, but the Zap is not triggered until you star an email in Gmail.
Action
The Action is the event that completes the Zap. For the Gmail to BlogIn Zap example, the action is creating the post on BlogIn.
BlogIn can be the Trigger App or Action App in your Zap, meaning that events happening on BlogIn can be used to trigger an action in another app, and vice-versa, events in another app can cause an action on BlogIn.
To use Zapier you will need to sign up for a free account. Learn more about Zapier it this getting started guide.
How to connect BlogIn with Zapier
Once you are logged in to Zapier, log in to your BlogIn account and head to My Profile to create the integration between BlogIn and Zapier.
Scroll down to the Integrations section, find Zapier and click the Add BlogIn to your Zapier account button.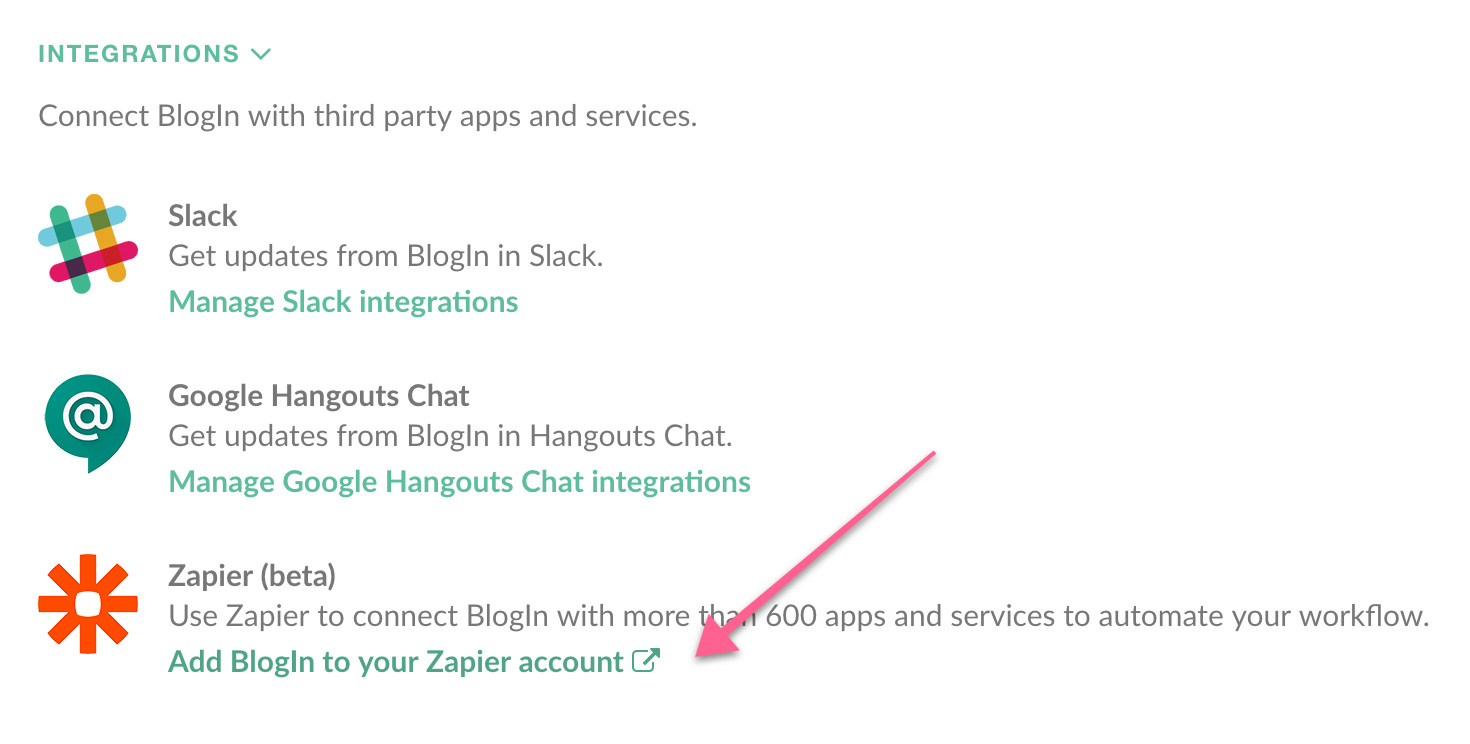 This will take you to Zapier and will add BlogIn to your Zapier account so you can use BlogIn in your Zaps.
Creating Zaps
To create a new Zap with BlogIn click on the Make a Zap! orange button in the header on Zapier..

.. and choose BlogIn as the Trigger or Action App of your Zap.
To complete the Zap creation, follow on-screen instructions to specify the Trigger and Action events in BlogIn and in the other app.
For a more detailed explanation on creating Zaps, please see this guide.
Feel free to contact us if you get stuck or need help.