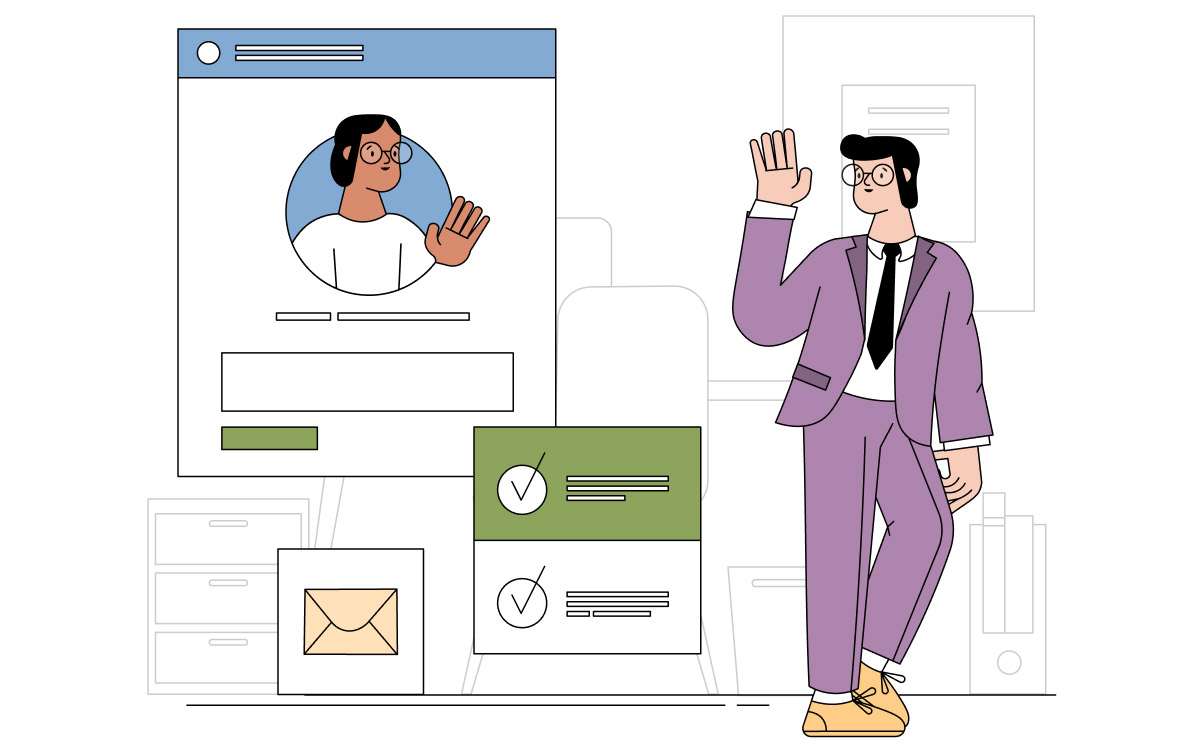 Internal communication is essential in an organization's effort to keep everyone on the same page and focused on what matters. The modern business landscape is catching up to technological proliferation, and organizations need to move past limiting internal communications to only traditional methods such as emails, memos, and newsletters.
The demographics of today's workforce, which consists of a sizable chunk of the tech-savvy younger population, want their employers to engage with them using instant and modern communication tools.
With the demand for increased team collaboration, transparency, and feedback at an all-time high, organizations must diversify their internal communications to maintain employee experience and engagement.
What is Internal Communications?
While internal communication is an overarching idea about how an organization communicates, internal communications are the tactics, channels, and tools that drive interaction between the organization and its employees. Internal communication brings coherence and coordination to the messages sent to the employees and their impact.
The Need for Robust Internal Communications
Internal communications contribute to the success of an organization by directly impacting employee experience, engagement, and productivity. Here are some of the reasons why:
It builds trust: Open communication through various channels ensures higher levels of transparency in the organization. Trust directly impacts job security and hence the loyalty of the employees.

It drives engagement: Employees are increasingly becoming purpose-driven. When they are at the receiving end of the organization's operating principles and know the higher purpose of their work, they are more engaged.

It maintains alignment: Good internal communication preserves the bearing of the employees by keeping them connected to their peers and higher-ups. Strongly aligned teams are more collaborative, efficient, and innovative.

It maintains company culture: An organization's culture speaks volumes to potential employees. A positive and productive culture attracts top talent and retains them in the long run.

It stops misinformation: Rumors often fill information voids in organizations, bring down morale, and breed suspicion. Strong internal communications ensure everyone has access to all the information they need.
10 Internal Communication Tools Organizations Must Have
A good internal communication strategy requires organizations to have a range of tools in their kit. Here are the top 10:
1. Instant Messaging
Instant messaging allows employees to communicate instantly by sending texts, images, videos, documents, and voice notes. It is a natural communication tool, as people are accustomed to instant communication in their personal lives using apps such as WhatsApp and Facebook Messenger.
Pros:
A quick way to ask questions and share information.

Avoids wasted time on composing emails.

Easier to search for individual and group conversations.
Cons:
Everyone has to install the app and actively use the tool.

Not suitable for big group discussions.

Not suitable for formal discussions.
Examples of instant messaging tools: WhatsApp, Microsoft Teams, and Google Chat.
2. Team Collaboration Tools
Team collaboration tools are great for keeping the team's communication in one place. It is highly useful for individual projects as it compartmentalizes information by breaking it down into 'silos'. Collaboration tools are particularly useful when working with teams across different geographical locations.
Pros:
Builds a centralized hub for information on specific projects.

Provides simultaneous user access and two-way information flow.

Cuts down unnecessary emails and improves efficiency.
Cons:
It takes a long time to transition from one project to another.

Some users may not adapt quickly and continue to email.
Examples of team collaboration tools: Slack, Asana, and Microsoft Teams.
3. Internal Blogs
Internal blogs are a great way to share information and encourage discussion in the workplace. Being private, employees can write expert articles or share proprietary information relevant to the organization on the internal company blog. It is also an excellent tool for higher-level management to interact with employees and share news and their vision for the future.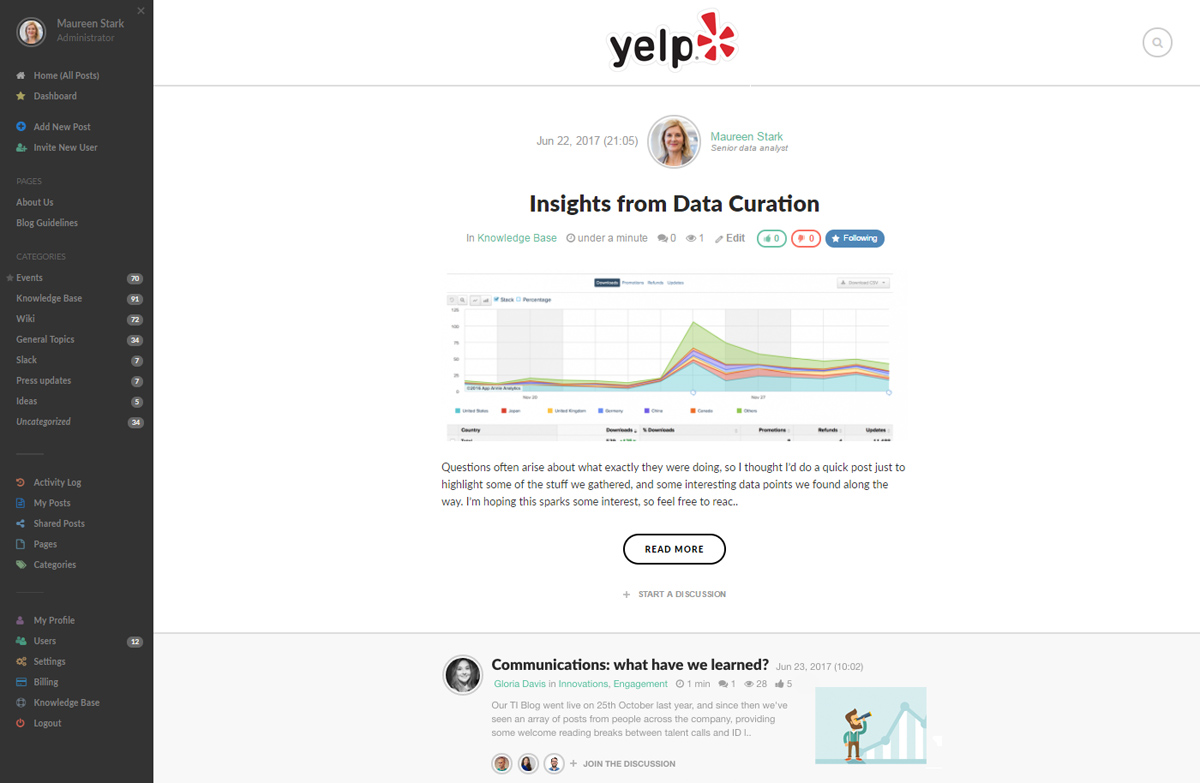 Pros:
Good for sharing information, and answering FAQs.

Promotes discussions and meaningful conversations.

It is private and safe.
Cons:
It may not attract the anticipated traffic.

It should be regularly updated to maintain interest.
Examples of internal blog platforms: Blogin, WordPress.
4. Social

Intranet
An intranet is an organization's private network that is a repository for updates, media content, documents, notes, and other essential information. The intranet is a central hub for the workplace and acts as a window into the company's culture. It is often designed to be accessible to all employees to network within the organization and plays a key role in onboarding, peer-to-peer engagement, discussions, and employee recognition.
Pros:
Closed community to share information relevant to the organization.

Dedicated sections have all the information employees need.

All conversations are public, which promotes transparency and trust.
Cons:
It can feel expansive for beginners, making information hard to find.

Employees may miss important updates.
Examples of intranet tools: Empuls, Microsoft Sharepoint, Blink, and Creative Social Intranet.
5. Video Chat
Video chats are applications purpose-built for virtual group meetings and conferences. They are essential for connecting teams spread out across multiple geographies. It enables employees to talk to team members face-to-face even though they are miles apart. Video chats have been the norm for the hybrid workforce since the COVID pandemic.
Pros:
Saves cost and time in terms of travel for client meetings.

Maintains team cohesion in the new hybrid work environment.

Highly flexible compared to traditional team meetings.
Cons:
Video calling is affected by slow internet connectivity.

Poor infrastructure and equipment can hinder connections.
Examples of video chat tools: Zoom, Skype, and Microsoft Teams.
6. Corporate Social Media
Corporate social media is an excellent tool to share information online informally. Most businesses these days have a social media presence on platforms such as Facebook and Instagram. Several other purpose-built corporate social media platforms are also available that can be used within a company, and these are just as engaging as mainstream social networks.
Pros:
Information can be quickly shared.

Contributes to employer brand value.
Cons:
Some employees might be reluctant to engage on social media.

Public posts on different issues can drive conversation or create controversies.
Examples of corporate social media tools: Workplace by Facebook, Twitter, Yammer.
7. Employee Surveys
Communication is a two-way street. For communication efforts to be successful, organizations need feedback from employees on what is working and what can be changed. The best way to start a formal dialogue is by using surveys, and employee survey tools allow an organization to elicit constructive feedback and measure progress in subsequent surveys.
Pros:
Anonymity improves feedback to questions on difficult matters.

Builds confidence in employees as it makes them feel heard.

Improves employee experience and engagement.
Cons:
The answers are only as good as how specific the questions are.

Lack of action can lower participation and trust during future surveys.
Examples of employee survey tools: Empuls, SurveyMonkey Engage, SurveyLab.
8. Employee Engagement
Engaged employees can have a significant impact on productivity. Employee engagement software can involve employees in different activities, from team building to debates, contests, polls, puzzles, games, and more. It can also help in assessing the moods and attitudes of employees daily or over defined periods. Engagement tools are particularly helpful for managers to assess the engagement of their hybrid workforce.
Pros:
It gives a good measure of engagement that can help bring about necessary changes.

Improves transparency and collaboration.

Reduces attrition rates and boosts productivity.
Cons:
The effectiveness of the software depends on how problem areas are addressed and fixed.
Example of employee engagement tools: Empuls, Trello, Peoplebox.
9. Forums
Discussion forums are one of the oldest tools on the internet that people are familiar with. These discussion sites allow users to ask and answer questions anonymously or in open discussions to troubleshoot problems. Although there are better tools for communication and collaboration, forums have a component of familiarity and comfort for most people using the internet.
Pros:
They can be integrated into the intranet.

Helps in collaboration on problems and general discussion.
Cons:
Forums need moderation. Therefore, it consumes resources to maintain discussion threads.
Examples of forums: Zendesk, vBulletin.
10. Internal Newsletters
Newsletters are periodicals that allow organizations to aggregate content and deliver information and messages that are not urgent. Newsletters have been around for a long time, and they are typically inexpensive and sent via email. As a traditional mode of communication, they are both formal and effective.
Pros:
They are simple to produce and distribute.
Cons:
Employees are less likely to open them and miss out on important information.
Examples of internal newsletter tools: Campaign Monitor, MailChimp.
Closing Thoughts
From the discussion above, it is evident that every organization needs different internal communications tools to reach out and connect with all the employees. While some devices, such as blogs, newsletters, and forums are general in their reach, some have a highly specific purpose, such as team collaboration apps, surveys, and video chats. Successful internal communication requires organizations to deploy the right tool for the right task strategically.